The tallest mountain in the British isles is an adventure 1,345 m high. Also known as "the Pony Track", the Ben Nevis ascent is an exciting experience and a great way to get to know this beautiful area. Besides, it's one of "282 Munros" (mountains over 3000 feet) in the Scottish Highlands.
The Ben Nevis ascent is also a charity challenge favorite. Every year, hundreds climb Ben Nevis to raise money for different charitable causes, sponsored by different organisations or by their friends and family. A great way to exercise, reach a mountaineering goal, and help with each step of the way.
What is special about the Ben Nevis ascent? Who can do it? When to do it? What will you need and how much can it cost? To find the answer to all of these questions, we spoke with expert guide Ken Applegate.
Ken is a British MIC-certified mountain guide. He has been working in this area since 2003. What he loves the most about his job is "sharing real adventures with the people". He guides groups throughout the United Kingdom and overseas.
We asked him what his most memorable experience while ascending Ben Nevis was. This is what he told us: "One of the most memorable ascents was guiding a 9 year old boy and his father in winter. We had plenty of snow, and the usual Scottish winter conditions up high. The boy did fantastically well! He persevered throughout. He reached the summit in good time – a brilliant achievement. I would have loved to have had the opportunity to attempt Ben Nevis in winter at that age!"
Thinking of attempting the Ben Nevis ascent yourself? In this article we cover – with Ken's help –, all the basics you'll need for a successful (and safe!) Ben Nevis ascent.
What makes the Ben Nevis ascent special
As someone who knows Ben Nevis inside out, Ken tells us:
"It's a spectacular mountain. Its impressive north face, which can be seen from various points whilst hiking up the mountain path, is alpine in character and scale. There's not really any face like it in the UK".
Where to start from – Routes
For this program, you will need to travel to Fort William, which is around a 3.5 hours drive from Edinburgh (Scotland) and around 2.5 hours from Glasgow (Scotland).
Most hiking ascents of Ben Nevis start from either the Achintee Inn or the Visitor's Centre, both in Glen Nevis. This allows for a steady ascent, up a well maintained path. That's not to say it's a walk in the park, as it's still a fairly rock path in places, but there's no exposure along the way, and is accessible to most people with a reasonable degree of fitness.
You can also choose the program via Tower Ridge. The ascent to Ben Nevis via Tower Ridge is a great option for those who love a nice steep climb.
For experienced mountaineers: Another option is to start from the Carn Mor Dearg Arete. But, Ken warns us, "this alternative involves more ascent and a bit of exposure higher up. It's more suitable for those with plenty of hill-walking experience and requires a head for heights".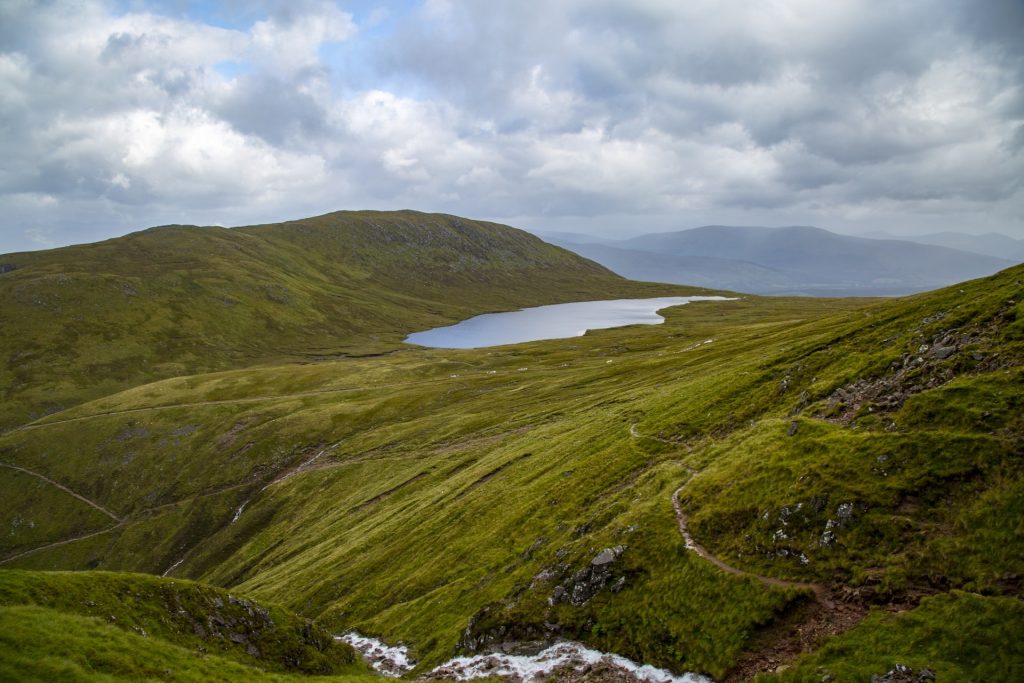 Best time of the year to attempt this ascent
Ben Nevis can be explored during winter or summer. The experience in each of the seasons will be quite different !
The 1-day summer ascent can be done from June to August. And the winter ascents, during November to April.
The winter ascent increases in difficulty. The weather conditions can include strong winds, freezing temperatures and thick snow. You might also need extra equipment, like crampons and an ice axe (usually provided by your certified guide).
Duration
1-day programs
The Ben Nevis ascent can be done in 1 day in both winter and summer, and takes around 8 hours to complete.
Check out the Ben Nevis Mountain, UK, Guided Winter Ascent.
Check out the summer Guided Ascent of Ben Nevis via Tower Ridge.
Longer programs
You can also choose to go on a longer program, covering more ground around Ben Nevis. A 5-day program will take you on different climbs close to the star peak, Ben Nevis. During this program, you will usually stay at the CIC hut (680 m), which is the highest mountain hut in the United Kingdom.
Click here for more information on the Ben Nevis, CIC Hut, 5 Day Guided Winter Climb.
Skill level required and difficulty
The ascent of Ben Nevis is quite straightforward technically (Intermediate level recommended), but it is considerably long and starts almost from sea level. "Whilst you don't need to have advanced hill-walking experience, it does require a good fitness level", explains Ken.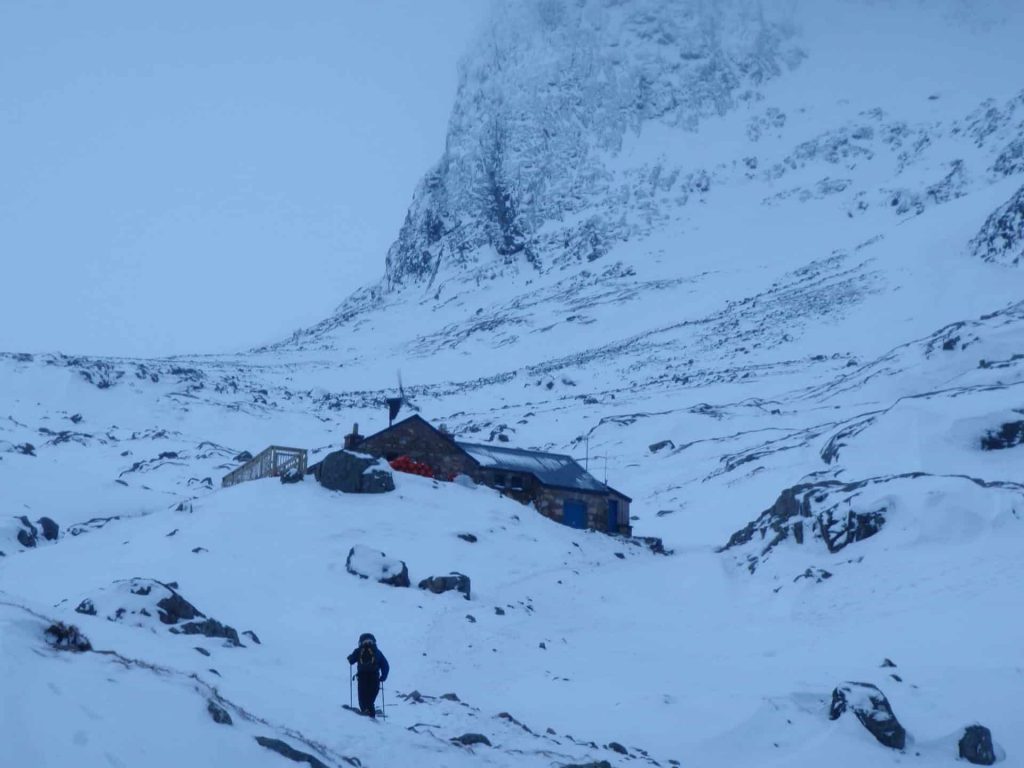 Weather conditions
"Scotland isn't renown for its year round sunshine and warm temperatures!", Ken reminds us. As he describes, the weather in the Scottish Highlands changes quickly and sometimes dramatically. Even during the summer, you can expect experience some wet, windy and cold conditions.
When planning the ascent, it is crucial to check the weather forecasts regularly and carefully. Going with a certified mountain guide is also extremely important for a safe ascent.
In the winter, you can experience freezing temperatures, stronger winds and snow.
Equipment
Given the often wet conditions, you will need to plan your clothing accordingly. Ken recommends:
Suitable clothing (waterproof)

Thermal base layers

Waterproof jacket and over-trousers

Boots

A spare kit in dry bags in your rucsac

Hats and gloves (even in the summer!)

Map

Compass (and knowing how to use it!)

Helmet

Head torch

Trekking poles (optional)

Harness
Extra equipment for winter ascents (usually provided by your certified guide):
Costs and groups
1-day programs
The 1-day winter Ben Nevis ascent can be done in groups of up to 6 people. In groups of 6, the cost per person is around 42 GBP (£). In the summer, 1-day programs take groups can be of 2 people at 115 GBP  (£) per person.
More information on the summer Guided Ascent of Ben Nevis via Tower Ridge.
More information on the Ben Nevis, UK, Guided Winter Ascent.
Longer programs
If you are looking for a longer program, 5-day programs usually take up to 2 guests, at around 390 GBP (£) per person, or 780 GBP (£) if you want to attempt it alone with your guide.
More information on the Ben Nevis, CIC Hut, 5 Day Guided Winter Climb.
What else to do in the area
As part of your Ben Nevis adventure, you will visit what Ken describes as the "outdoor capital of the UK": Fort William. This area has a lot to offer, from the finest mountains, to incredible lochs (lakes) and coasts in the UK.
More relaxed options include taking the Jacobite Steam train out to Mallaig.
If you are feeling more adventurous, Ken recommends rock climbing, sea kayaking, white water rafting, canyoning, mountain biking, and even skiing, in the winter.
Planning to climb the highest peak in the UK? Check out all our options for guided mountain ascents in Ben Nevis.
***
Thank you Ken Applegate for sharing your tips and experience with Explore-Share.com!