The top 5 ski tours in Argentina

Argentina has so much to offer when it comes to skiing that a ranking like this can get extremely hard to pull. However, we managed to select our favorite five. Here is a list of some destinations you simply must visit if you love backcountry skiing and you happen to be in this South American country.
El Chaltén is a small village in Santa Cruz, near Calafate, far to the south of Argentina and still developing as a touristic region. Therefore, you won't happen to meet hordes of skiers like in other very popular destinations. So there's that. Then, of course, you have the vast panoramic views of the stupidly beautiful Mount Fitz Roy. Overall, we find it the most peaceful and overwhelming of all settings for doing your backcountry ski runs.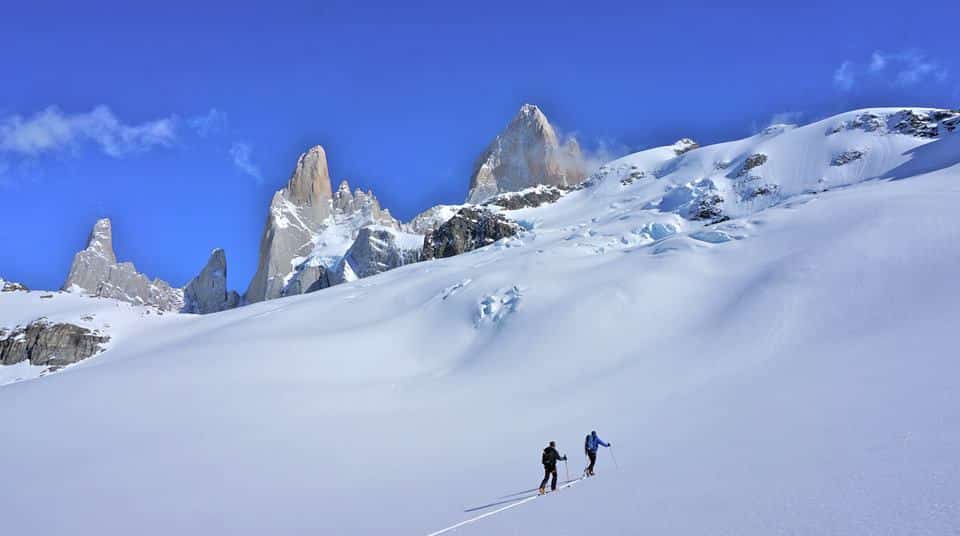 2. The Baguales Mountain Reserve
Yet another growing touristic destination, the Baguales Mountain Reserve features a set of mounts that, increasingly so, gather some backcountry skiing connoiseurs every year. This is due to the fact that the Reserve delivers a high quality —attentive to detail— service when it comes to catskiing, snowboarding and ski touring, with their bunch of IFMGA certified mountain guides and their cozy, rustic lodges.
Together with those in Chile, the Volcanoes of the Northern Patagonian Ice Field are amongst the highest in South America. Some of them are still active, like Lanín (in the picture), and… did we mention you can freaking ski on them?!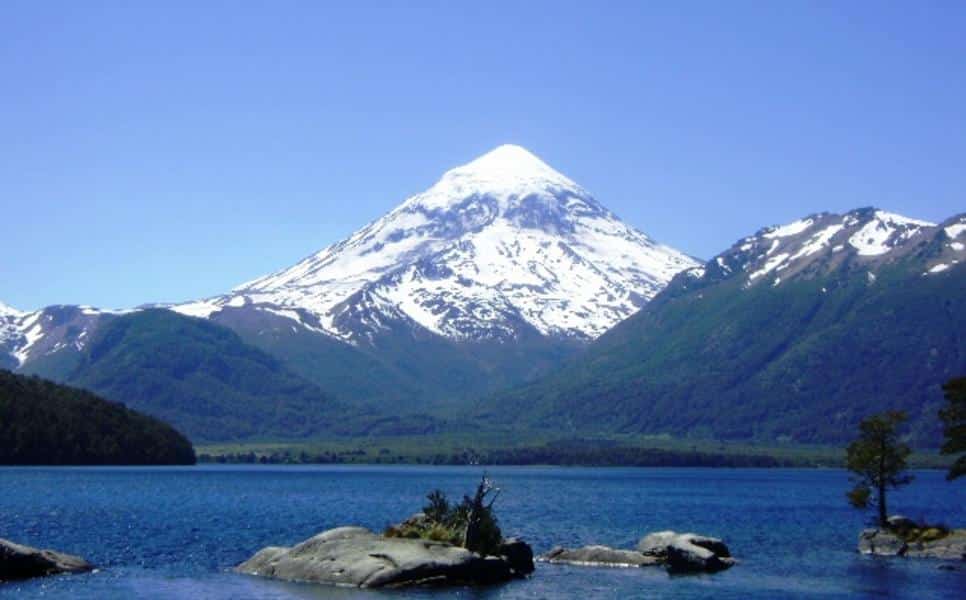 El Bolsón is 100 miles away from Esquel, in the Chubut province. Besides its very famous ski resort, the less frequented mount known as Cerro Piltriquitrón is a very attractive location for backcountry skiers. Why? Because it gathers very abundant snow falls —actually, its name means "that-which-hangs-from-the-clouds" in Mapuche language—, rendering it great both for ski touring and heliskiing. Last but not least, its altitude (2260 mts. above sea level) allows for wide panoramic views of the Andes.
5. Backcountry skiing in Frey
Frey is the backcountry option for skiers visiting Bariloche. The refuge sits at the shores of Nahuel Huapi Lake and at the base of Cerro Catedral. We're talking not only about, you know, the peaceful setting of the rocky mount contrasting with the pristine snow. It is also about the ski runs in the forest and the relaxing stay in the very well-equipped hut.
The only disadvantage of the place is that it has been famous for offering such a good experience to skiers for so long, that nowadays it gets heavily demanded by tourists —that's also the main reason why people are looking into undiscovered areas like Chaltén and Baguales nowadays.
About this ranking
This was our choice, of course. Feel free to complain, to rage and to shake the foundations of the Internet in anger if we happened to discard your favorite one!