Ski touring in Mount Triglav National Park: 4 days off the beaten tracks!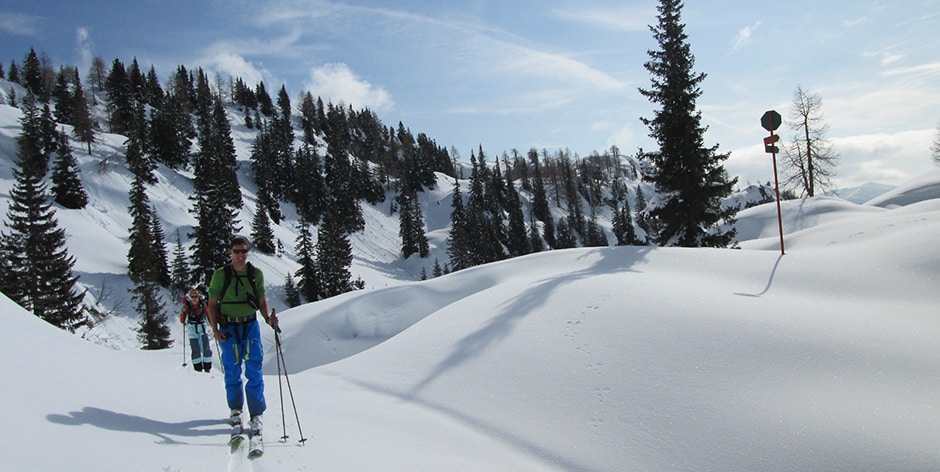 Slovenia… or how to end up alone in an awesome ski touring spot, combining a business trip with a passion.
The whole idea came up while looking on a map to check the location of a business trip I had to do in Austria. I never really realized but Austria and Slovenia share a border together. And Bled, isn't it the town we have seen on so many postcards? Yes it is! And only 45 minutes away from my business meeting! What a great opportunity to combine work and pleasure…
So, the idea was to go to Austria to meet some partners and now, I'm checking about going to Slovenia to fulfill my desire of skiing in unique and wild spots… The month of March seems the best period to go skiing in the Julian Alps. Even better, the ski resort is located just next to the National Park of Mount Triglav. Mount Triglav, what's that? The highest mountain of Slovenia! After some thinking I decide to go there and contact a guide to organize a ski tour with him.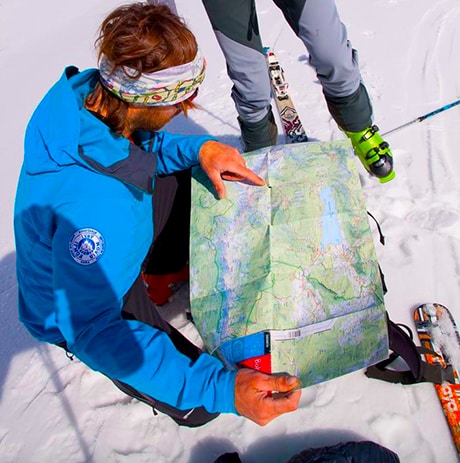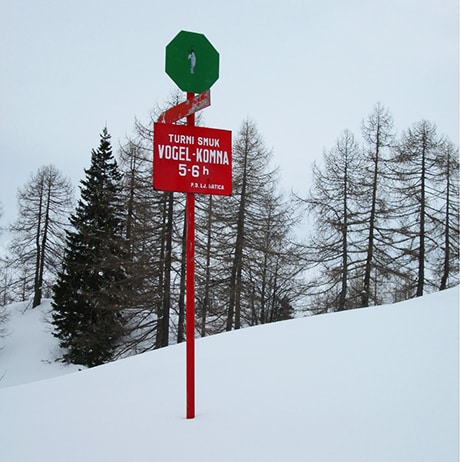 The magic of Internet tells me in a few minutes who is going to guide me. I contacted Mitja, a local IFMGA mountain guide, through the Explore-share.com platform. Will the guide be behind his computer and answer me? No, but Gauthier, in charge of the mountain guides community of the website, answers me directly telling me that Mitja is currently guiding and that he will get back to me in a few hours.
And this is just the beginning of a long list of treats!
"Where do you want to go? When will you go to Slovenia? Do you have ski touring experience? Do you like goulash, red beans and beer?!"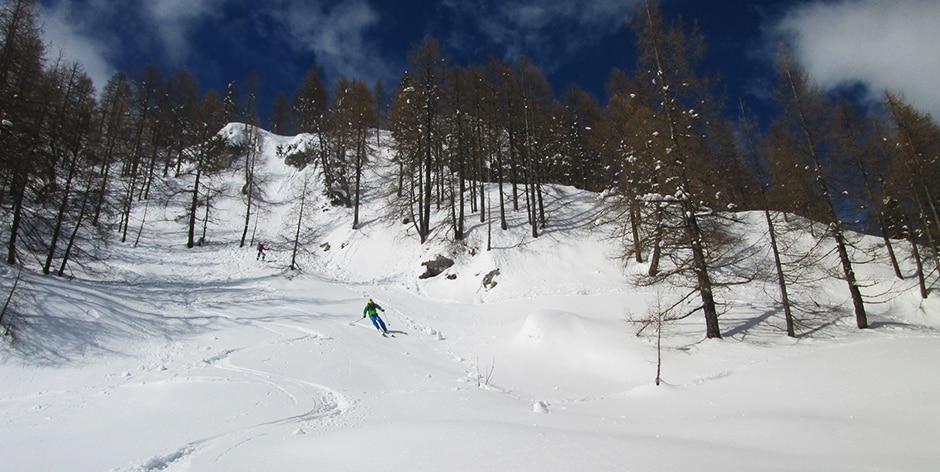 So, last Friday at 6.30 am, Mitja picked us up at our camping spot to start a 4-day ski tour in the Triglav National Park. Are we going to see bears, hares, humans, chamois? We don't know it yet but what's sure is that the Slovenian have something similar to the Swiss when it gets to logistics… We are having our breakfast with one hand and finishing our bag with the other because Mitja arrived 15 minutes earlier telling us "Take it easy". We speed up a little bit and here we are, on the road.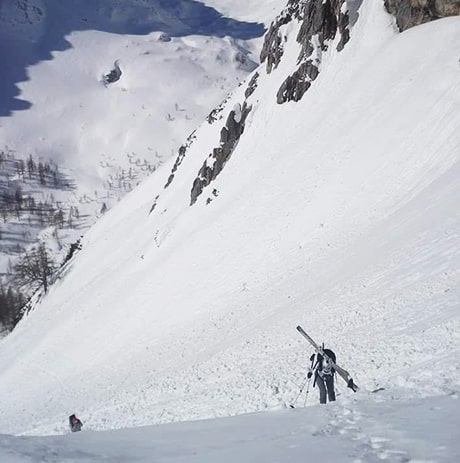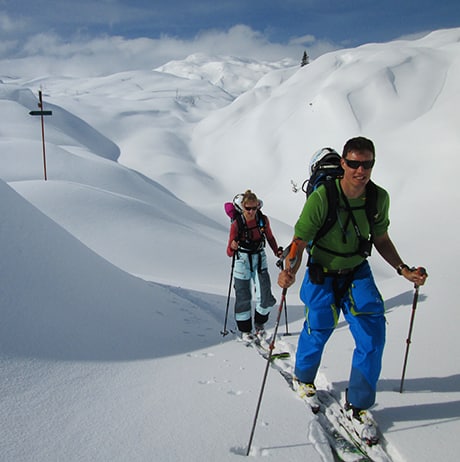 Day 1: from Vogel cable car to Dom a Kamni mountain hut (1100+ 600-)
The adventure starts with an hour drive to Bohinj. We leave some stuff at the cable car station and queue to get our lift ticket. Actually we are queuing because the lady at the desk is waiting for us to find our money in our bag, at the bottom left, next to the toothpaste…and here we are, in the cable car!
We very quickly leave the ski slopes to go through a forest and skin up to a little pass. Unfortunately, the clouds don't go away and skiing outside the forest gets quite tough since the visibility is very bad.
However, the descents are awesome and nice to ski, over a real winter snow. The Julian Alps have suffered from the lack of snow during the beginning of the season but luckily, 2 to 3 meters fell 10 days before we arrived to Slovenia. We are skiing alone, there is nobody, and we only come across hare traces.
We go through a second pass and then enjoy again some amazing skiing, going down to the refuge. A known and surprising passageway will fool us a little bit: The mountain hut seemed to be really close, but actually it took us one hour to reach it through real Russian mountains using our skins.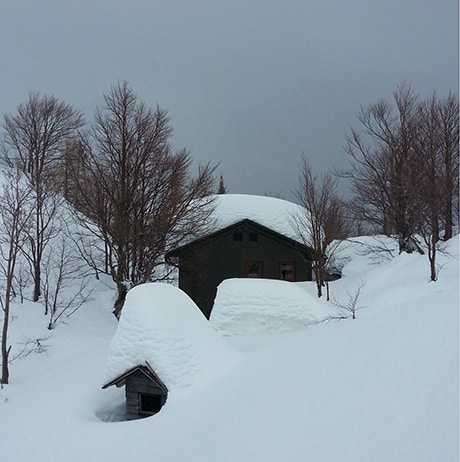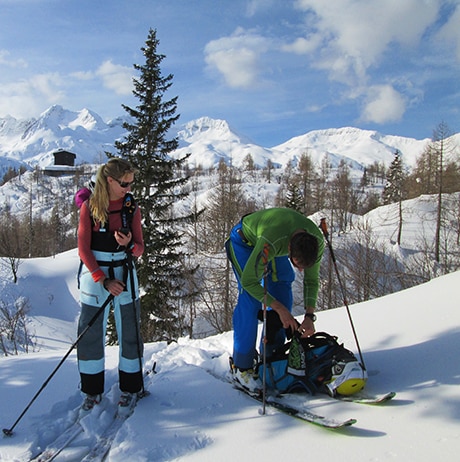 Day 2: from Dom a Kamni to the winter mountain hut of Prehodavci (800+ 300-)
It was a half marathon day, almost all flat due to the fog which refuses to go away. We were ready to go up, but the lack of trees in altitude forced us to take the long and flat way of wisdom. Up and down during 3 hours with our skins under our skis. We had some issues with our skins which rolled and gave us some points to pay the beers in the next pub. The blue sky finally decided to show up but it was too late, we had already arrived where the 2 paths join together.
After a short break to take some water at a refuge, we finished by the long and splendid valley of the 7 lakes. Some lakes are frozen, some other simply hibernate. The winter refuge is totally new. We experience a real Frison Roche night, preparing our pasta in a mess tin with melted snow.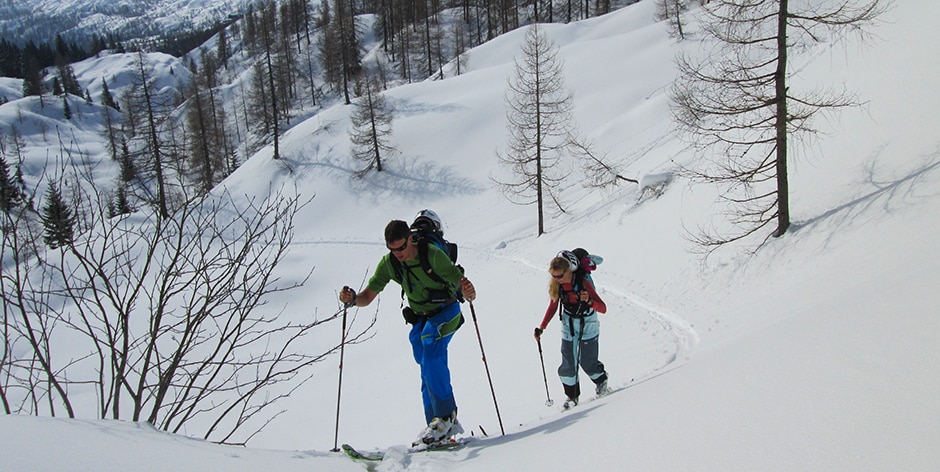 Day 3: from Prehodavci to Triglavski Dom (1300+ 800-)
The nicest ski ascent of the tour, including 2 passages above 45°.
After a cold night without heater but both very happy about our experience here, we went down to put our skins and ski crampons in order to go up a first pass. This was quick and the sun appeared, which made the frost go away.
Second challenge of the day: ski down 800 meters with amazing powder snow, having as only spectators larches and wooden huts. Yahou says Mitja while doing his first turns! Hum yes… no other choice: Yaaa-houuuuu!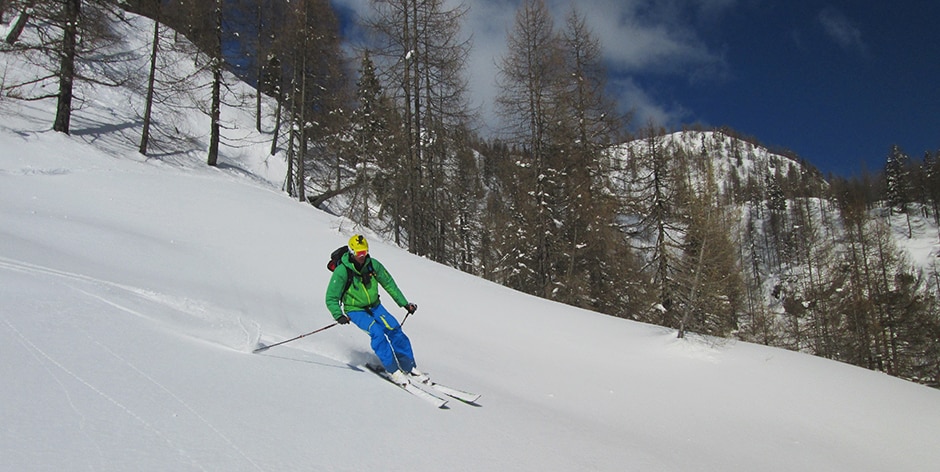 We arrived early at the bottom of the second pass. The ski conversions went well but when it was getting steeper I had to concentrate myself in order not to slide down. After 100 meters, we put our skis on our backpack in order to finish walking with our ice axe in hand.
The end had not yet arrived. We finished the long ascent to the refuge doing proper French traces, while we passed by, on this known section of the route, few people walking or skiing up straight! "Slovenian style", said Mitja.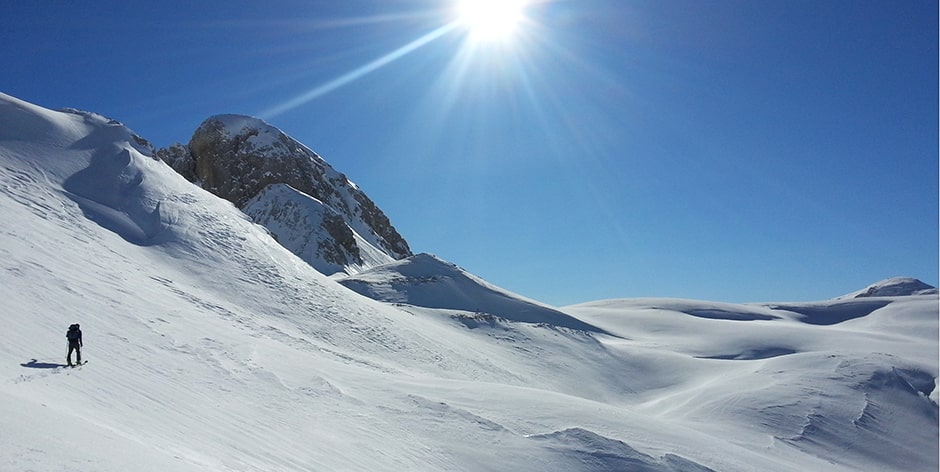 The very welcoming mountain hut opened just for us. It had a chapel on the right, just below the large dome of Mount Triglav. Breathtaking!
Day 4: from Triglavski Dom to Mojstrana (200+ 1700-)
Mitja knows this itinerary very well. We started directly off the beaten tracks. Just below Mount Triglav, he took us to a virgin slope. A real winter powder snow, no noise, no trace… only the peaks and the cliffs which dominated us and allowed us to enjoy some nice turns. We felt ourselves so small in this fantastic decor.

We had to deserve the continuation of the descent after skinning up 200 meters. From there, we went down to Mojstrana. We passed by fields, couloirs and larch forests. The ski down was fabulous, in a perfect spring snow. Mitja knows well the timing to respect. Only the end, behind the trees, was a little bit technical. This last passage took the last energy I had in my legs. Anyway, the parking was close and the adventure had already come to an end.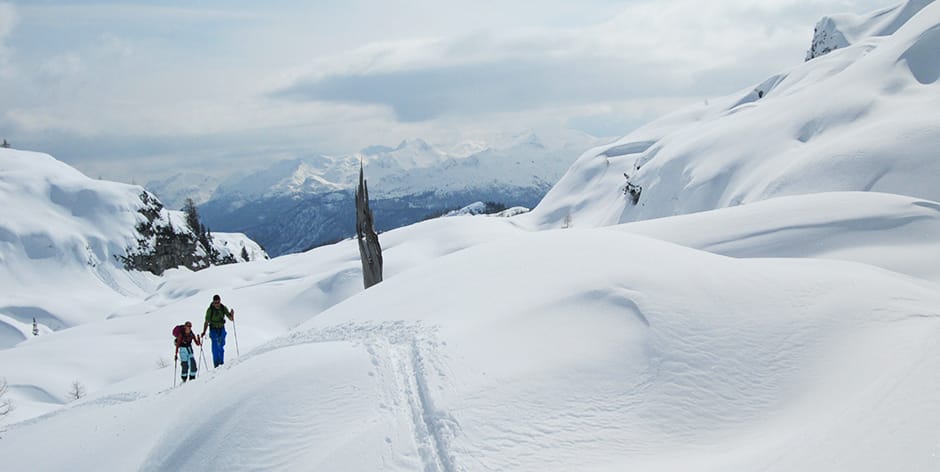 After 4 days, we had to go back to the normal life, but full of anecdotes. We learned the last day that 10 bears are living in the park and that one of them already woke up from his hibernation and attacked some beehives in Bohinj, our starting point!
We have no choice… we will have to come back here to experience again these awesome and wild places. I take this opportunity to thank Mitja for his perfect organization which allowed us to see breathtaking landscapes and to enjoy beautiful slopes, going up and down. Don't hesitate too much and sign up for a ski tour there…
This adventure in Slovenia is a really good example of what we want to promote through Explore-Share.com: allow mountain enthusiasts to live unique moments up there, together with a guide who will let you discover magical places while ensuring your safety.