Are you planning an ascent to the highest peak in Slovenia? Read this guide to find out everything you need to know, from the best climbing routes to what to bring in your backpack.
Nestled in the heart of the Julian Alps, Mount Triglav is undoubtedly the most beloved peak in Slovenia.
Want to know more about
Mountaineering in Slovenia?
Not only is it the highest peak in the country, at a height of 2864 m, but it's also a powerful national symbol. It's such a trace of identity that it is said that every "true" Slovenian should stand on the summit of Mount Triglav at least once in their life.   
But Slovenians are not the only ones allured by the majestic Triglav. Most climbers travelling to Slovenia have it on their bucket lists. And many others choose it as a first experience in the mountains.
Mitja, an IFMGA mountain guide from the Explore & Share community based in Slovenia, stood at the top of Triglav 28 times last year. We asked him to share his insider-tips to climb this fascinating mountain:
Triglav Climbing Routes: Which one Should I Choose? 
Mount Triglav is surrounded by deep valleys and can be approached by different climbing routes. Most of them demand 2 days and involve staying at a mountain hut for the night.
Mitja recommends 4 popular routes to Triglav. If you are travelling between the end of June and end of September, you can join an existing group or request a private guided ascent with a small group of friends.
1| Climbing Triglav from Krma Valley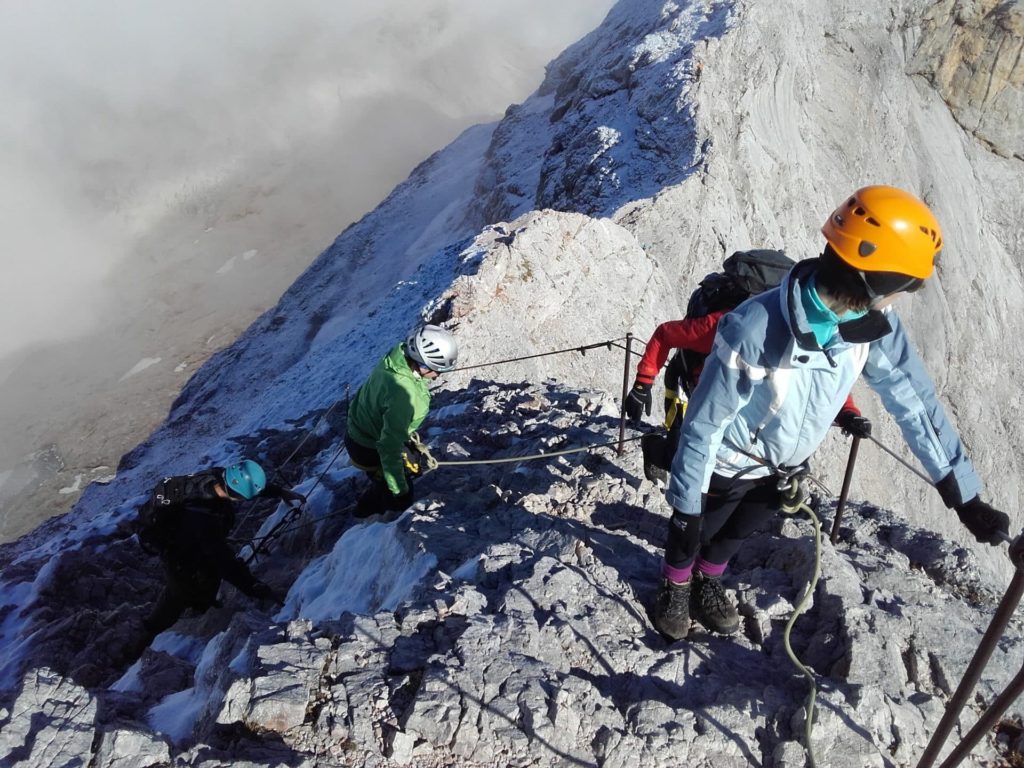 This is the easiest and most popular way to ascent Triglav. Due to its lack of technical difficulties, this climbing route is often used for winter ascents. It includes a 400 m via ferrata (protected climbing route) to reach the summit.
The Krma Valley is inside Triglav National Park. Head south from the village of Mojstrana and you'll get there.
---
In brief
Total hours of climbing:

12 to 14 hours.
==> Climb Mt Triglav from the Krma Valley with a guide 
---
2| Climbing Triglav from Vrata Valley
This is the hardest mountain trail to Triglav. You'll have to take one of the 3 via ferratas to ascend. Each of them has a different level of difficulty (Tominšek and Prag route are the most popular ones).
It can be very tough, but the effort will be totally worth it: you'll find stunning views in one of the most beautiful valleys in Slovenia.
The Vrata Valley stretches from Mojstrana right to the foot of the impressive Triglav North Face. The starting point for Triglav ascents is Aljazev Dom hut (1015 m).
---
In brief
Total hours of climbing:

14 to 16 hours.
==> Climb Mt Triglav from the Vrata Valley with a guide
---
3| Climbing Triglav from Blato Meadow (Seven Lakes)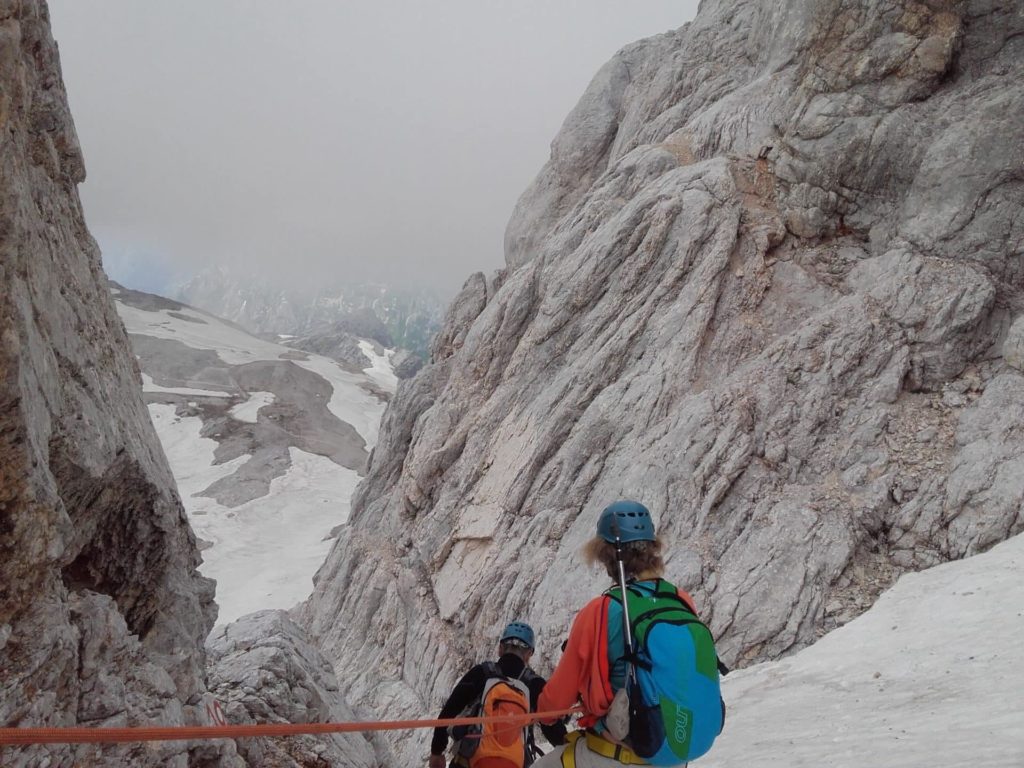 This is the longest way to ascend Triglav but it's also a beautiful mountain trail. The route starts in Blato meadow, above Lake Bohinj, one of the top natural attractions in the country. You'll hike over a mixed terrain of meadows and rocks on a valley known as Seven Lakes.
A via ferrata will lead you right to the summit of Triglav.
---
In brief:
Total hours of climbing:

17 to 19 hours.
==> Climb Mt Triglav from the Blato Meadow with a guide
---
4| Climbing Triglav from Zadnjica Valley
This is a long route that begins at Trenta Village. A 5 hour hike will take you through some interesting paths called 'muletiera', which have been built during the First World War.
It's suitable for beginners, even if it includes some exposed sections on the final approach to the summit that will require the use of a fixed rope.
---
In brief
Total hours of climbing:

7 to 10 hours.
==> Climb Mt Triglav from the Zadnjica Valley with a guide
---
Where to Stay in Slovenia?
Slovenia is growing fast as a tourist destination and has developed a wide range of outdoor activities that will make your travel experience unique. So if you are wondering where to stay before and after climbing Triglav, here are four towns we recommend:
1| Kranjska Gora
Lying in the northwest of the country, very close to the border with Austria and Italy, this nice alpine town offers easy access to Triglav National Park and is the starting point of many alpine trails.
The highest road pass in Slovenia –Vršič pass- also begins here, and connects the town with the Bovec Region.
Kranjska Gora is a great location for families with children. If you stay here, you can combine your ascent to Triglav with bike riding (there's a cycling trail that goes from Kranjska Gora to Mojstrana village and a bike park for those seeking an adrenaline rush), horse riding and, of course, unlimited hiking trails! During winter, this is a top-notch ski resort.
Recommended climbing route to Triglav from here: Krma valley route, Vrata valley route.
2| Bled
One of the most charming -and touristy- towns in Slovenia, surrounded by peaks of the Julian Alps and the Karavanke mountains, with the iconic Lake Bled (with the famous island and castle) as the major attraction.
Wondering what to do after your Triglav adventure? Head to the popular Vintgar Gorge, for a walk on its scenic bridges and paths. You should also save place for a visit to Savica waterfall, which is only 30 min drive from Lake Bled.
If you are looking for accommodation in Bled, please find here below the ones recommended by Mitja :
Recommended climbing route to Triglav from here: Krma valley route, Vrata valley route.
3| Bohinj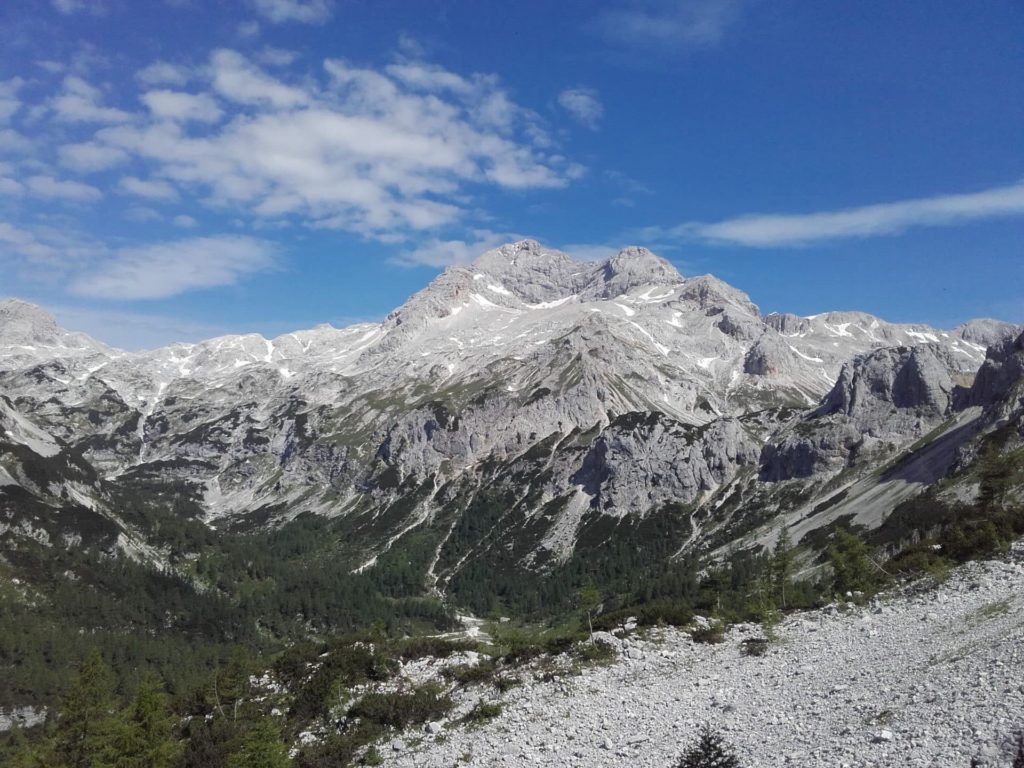 This alpine town at the heart of the National Park, on the shores of Bohinj Lake, is a great starting point for your Triglav ascent through the 7 lakes routes, though it's less visited than other surrounding destinations. Here you'll find a whole package of activities that will make for a great family holiday, from canyoning in Jereka and Grmecica rivers, to a mind-blowing paragliding flight over the valley.
Recommended climbing route to Triglav from here: Seven Lakes route.
4| Bovec
On the other side of the Julian Alps, close to the border with Italy, lies a small alpine paradise. The amazing emerald waters of the Soca River are certainly the highlight here, with many options for wild water adventures! The Soca trail is another hiking trail you can't miss in this area.
So if you'd like to climb Triglav from Zadnjica valley and you enjoy water sports, staying in Bovec will be your best choice.  
Recommended climbing route to Triglav from here:  Zadnjica valley route.
Which are the Best Mountain Huts to Stay in Mount Triglav?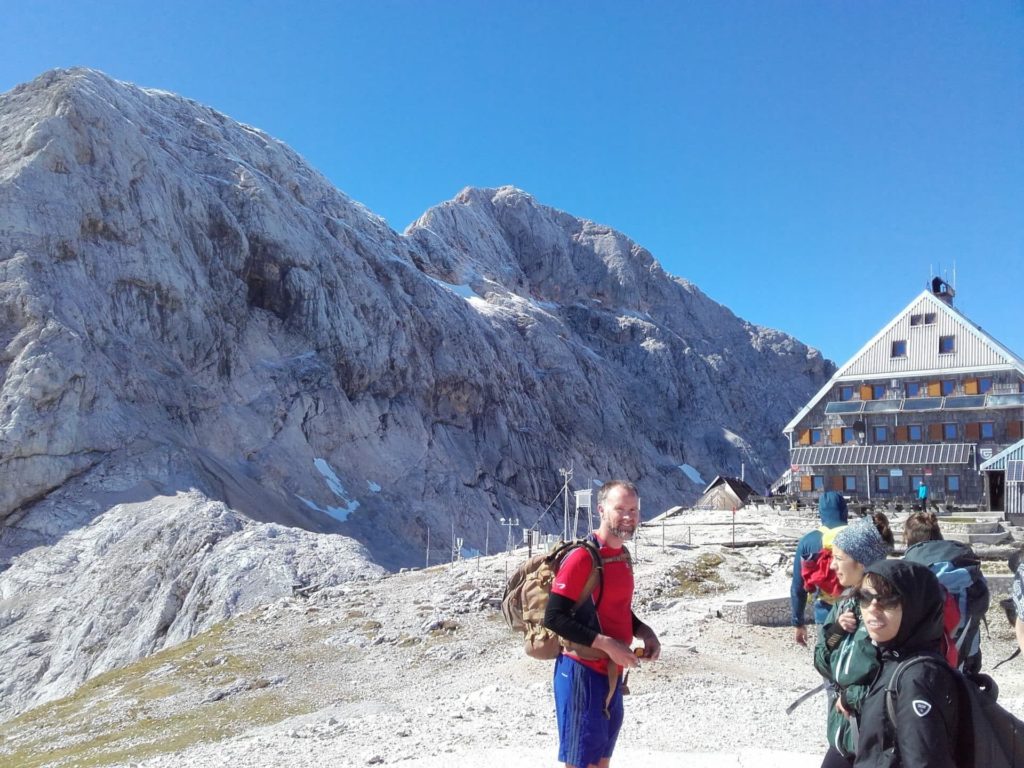 As we said, climbing Triglav is a challenging experience that will demand 2 days in most cases. Fortunately, there are very reliable mountain huts where you can spend the night and reload your energies to attempt the summit the next day.
It's important that you book the hut in advance if you are traveling on your own.
1| Triglavski dom na Kredarici (Triglav hut).
This is the highest hut in the country, lying in the Kredarica plateau, at 2515 m. It's also the most visited hut in Slovenia. Guides usually take groups here, as it can accommodate up to 350 people.
When is it open: all year (it is also a weather station), so it's suitable for winter climbing.
2| Dom Planika Pod Triglavom (Planika hut).
This hut stands on the southern side of Mt Triglav, very close to the summit (about 1.30 h hike). It has room for 143 climbers.
When is it open: from June to September.
3| Trzaska koca na Dolicu (Dolic hut).
A small hut with room for 80 climbers. It has a beautiful location, overlooking the Trenta Valley. Ideal if you take Zadnjica route.
When is it open: from June to September.
When is the Best Time to Climb Triglav?
Triglav is an year-round destination. However, winter ascents (from November to the beginning of June) are more challenging and are reserved for climbers with previous experience. Take into account as well that January and February are harsh months in the Julian Alps and sometimes it's not possible to go up.
The best time to climb Triglav is during the dry season, that goes from June to October. The ideal dates are between the end of June and the beginning of July: this is the less crowded period and the time where most flowers are in bloom.
Avoid climbing Triglav between August and September, as Slovenian holidays translate into massive crowds. Weekends during this time usually receive more than 2000 climbers, so it's a wise decision to skip these dates.
Finally, check the weather forecast before deciding when to climb Mt. Triglav. (Make sure there aren't any upcoming storms!).
What Should I Pack to Climb Triglav?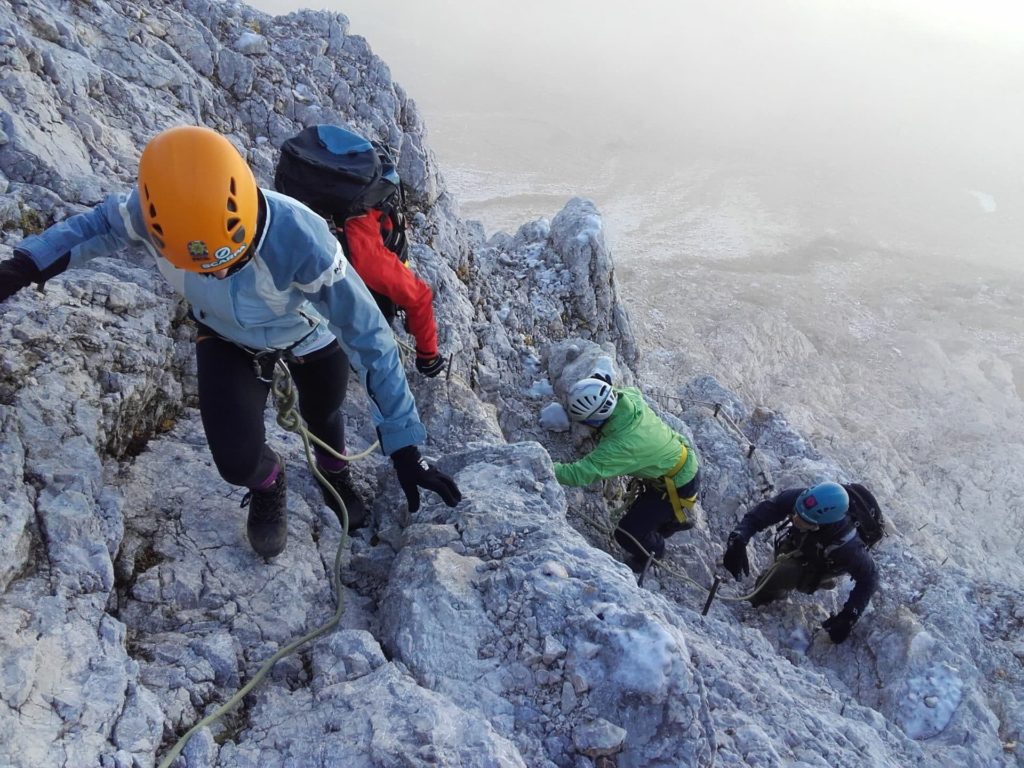 Here's a list of the equipment that Mitja recommends for a climbing trip to Triglav:
Clothes:

waterproof jacket and trousers, warm clothing (fleece…), gloves (in the mountain it can snow anytime), hat, sunglasses, shoes (high mountaineering boots with good rubber soles), poles. As there are limited options for renting boots in Slovenia, you should bring your own.
Other items:

headlamp, sunscreen (high spf), camera, energy bars, chocolates, other food for the climb, Alpine Club membership card (if you have one, you will receive a discount at some huts).
All this equipment can be packed in a 30l backpack. Make sure you pack light, so you can fully enjoy the ascent!
Finally, keep in mind that you can find a rental shop in Bohinj or an Iglu Sport in Lesce (in case you'd like to buy mountaineering equipment).
How Hard is to Climb Triglav?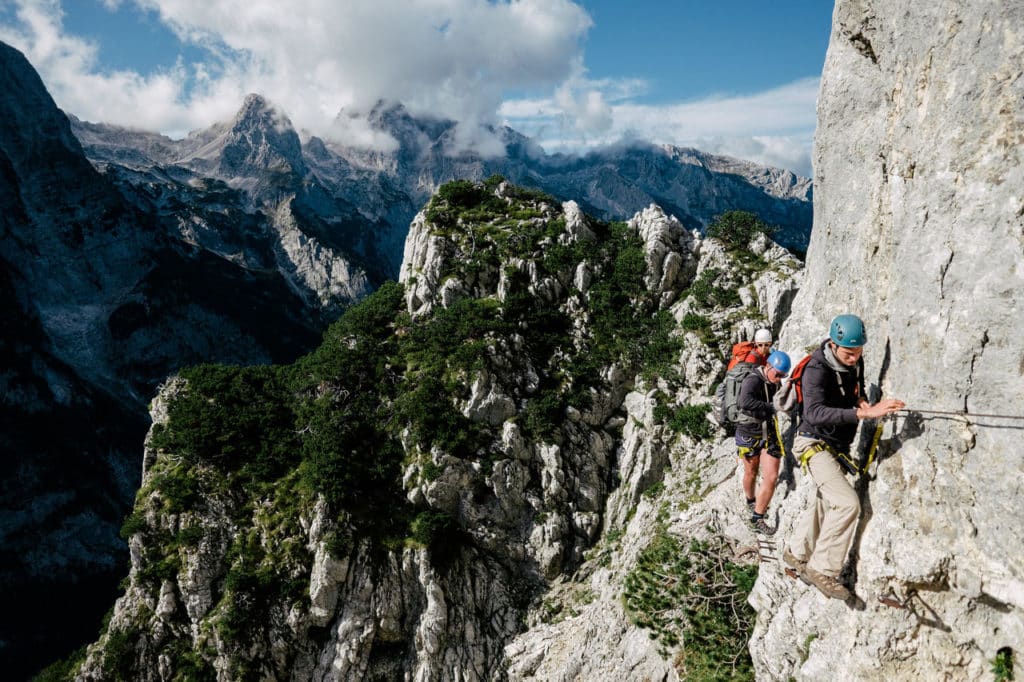 The ascent to Mount Triglav is considered an intermediate level climb. It's not very technical, except for some steep and exposed sections in the last part that will probably require the use of a rope (or climbing a via ferrata, depending on the route you take).
Regardless of the route you choose to approach Triglav, it's important that you have a good physical condition and no fear of heights. Having the right equipment will also be essential for a safe climb.
Why Climb Triglav with an IFMGA Mountain Guide?
Guides certified by the International Federation of Mountain Guides Association (IFMGA) meet the highest standards in mountain training in the world. In Slovenia, these guides belong to Združenje Gorskih Vodnikov Slovenije (ZGVS), which is the national guides' association, member of IFMGA.
Travelling with a local IFMGA mountain guide is the best way of fully enjoying your mountain experience. You'll feel safe with a guide who knows the terrain like the back of his hand, can prevent dangerous situations and face any trouble that may come up. A guide is specially recommended if you don't have any previous mountaineering experience or training.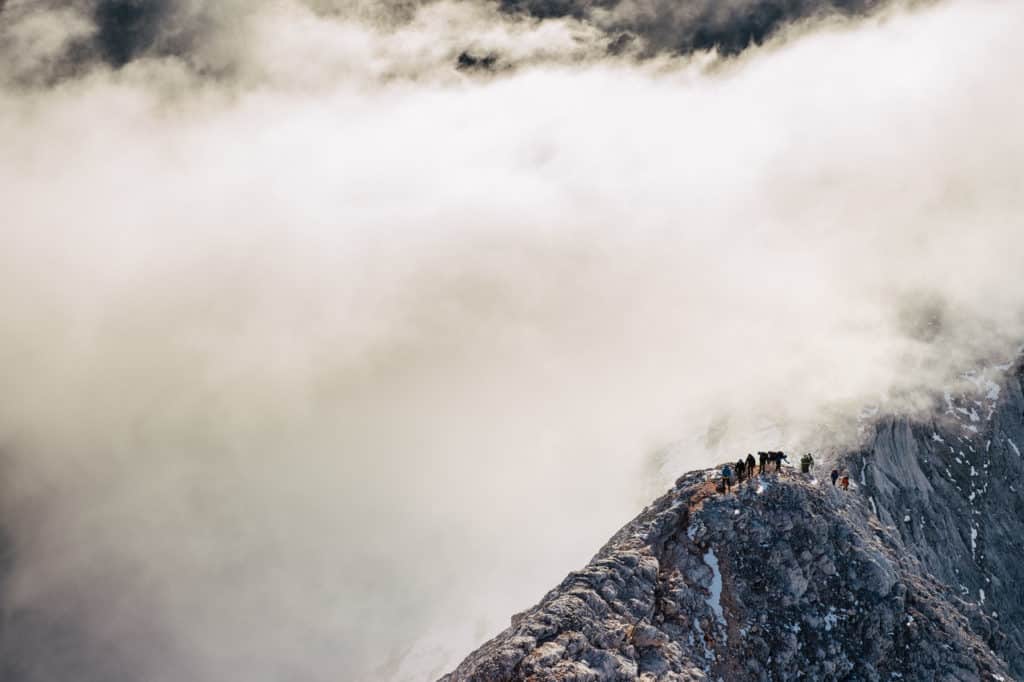 The recommended size of groups per mountain guide in Triglav is 4 people for summer ascents and 2 people for winter ascents. So be careful with agencies that offer guided programs for larger groups.
Bonus: Top Rock Climbing Routes in Triglav North Face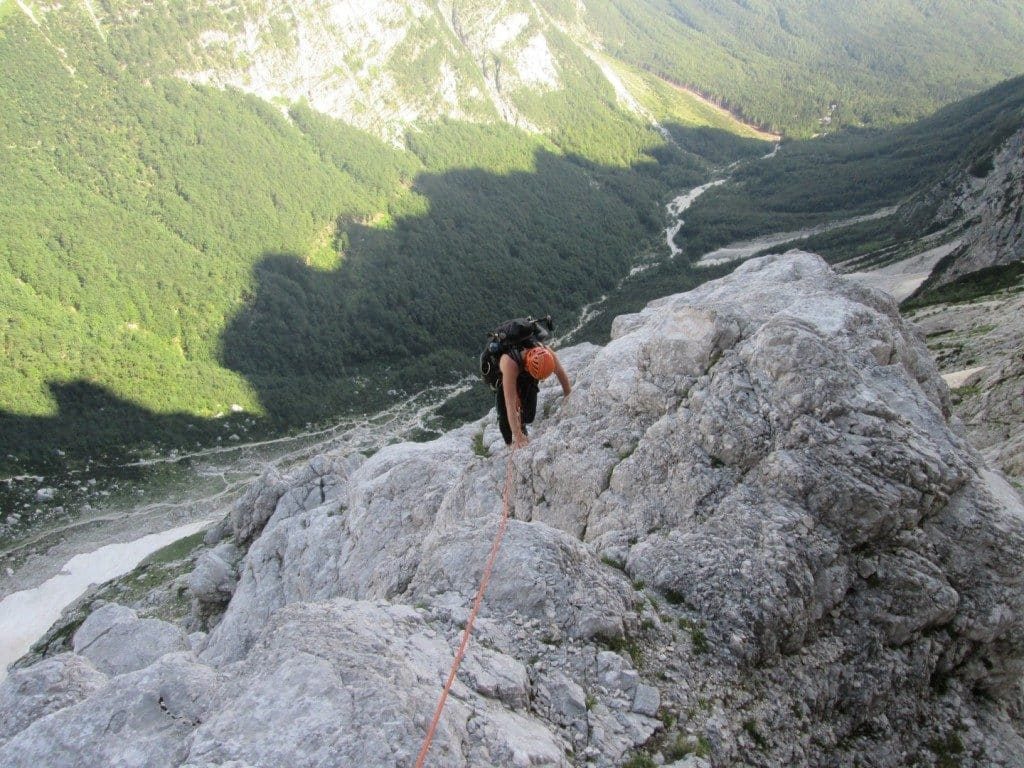 One of the features that make Triglav a strongly desired peak among climbers is its impressive north face, which is among the biggest in all the Eastern Alps. In fact, Slovenians just call it 'the Wall'.
This huge 1000m-high and 4000m-wide limestone wall lures rock climbers worldwide, offering more than 120 routes for all levels. You can combine one of them with an ascent to the top of Triglav (probably in 2 days).
These are the most popular routes on Triglav north face:
Slovenian route (800 m).

Level: easy – intermediate (

I–II, III UIAA).

Short German route (800 m)

. Level: intermediate (III-IV UIAA).

Long German route (1000 m).

Level: intermediate – sustained (IV UIAA).

Bavarian route (800 m).

Level: sustained – hard (IV+ UIAA).

Skalaška route (1000 m)

. Level: hard (V+ UIAA).
⇒ Book the ascent of Mt Triglav via its North Face.
***
Are you ready to reach the top of Slovenia? Contact Mitja for a guided climb in Triglav or check all these fantastic options in the Triglav area offered by local IFMGA guides member of Explore-Share.com.