Top 5 High Altitude Peaks for Ski Mountaineering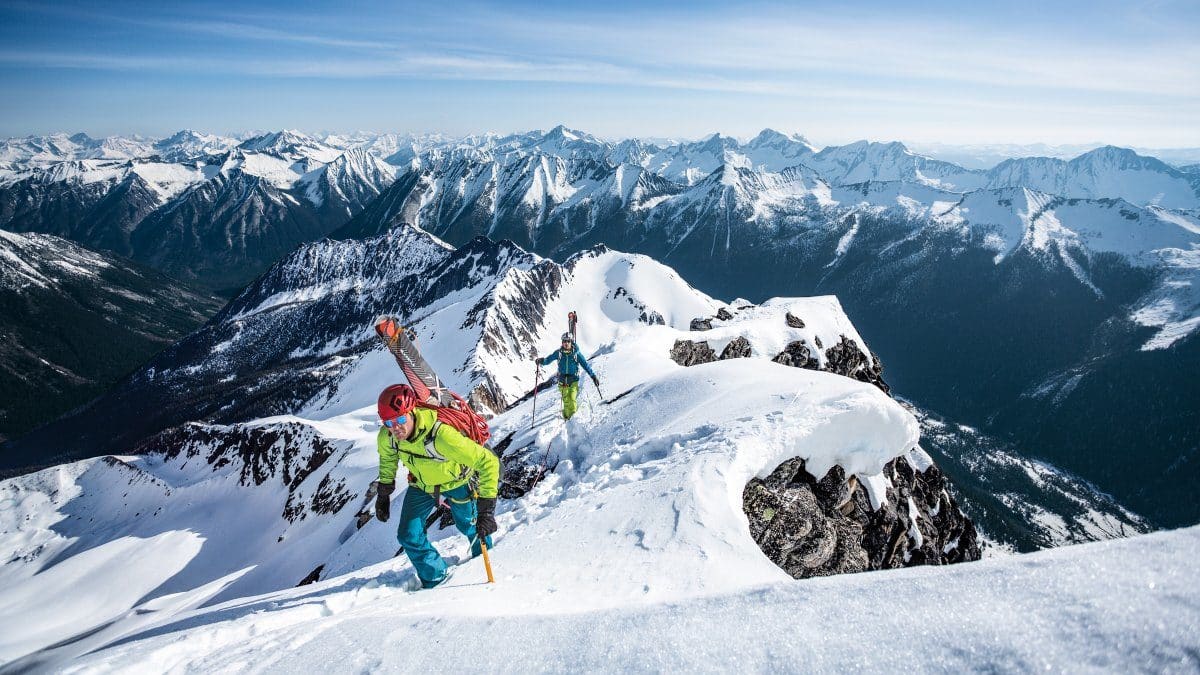 One of the most special – and exciting – ways of discovering remote summits is ski mountaineering. What is this exactly? This activity implies climbing mountains on skins or carrying your own skis, depending on the specific characteristics of the ascent and the terrain, and then descending on skis.
Ski mountaineering is also a great way of reaching unique slopes and snow conditions – Be the first skier on these wonderful descents! For the brave and adventurous ski mountaineers, there are countless of options in different continents and countries, and different skill requirements.
In general, while the technical difficulty of each location varies, the main and common challenges and risks of this practice are altitude and avalanches. This is why this is an activity that requires a proper preparation as well as skiing and mountaineering experience.
To attemp ski mountaineering programs, it is crucial to count with assistance and guidance of an experienced and certified Mountain Guide, who knows the terrain, the itinerary and what to do along the way, as well as what precautions to take in order to have a safe and enjoyable experience.
Given all the different ski mountaineering options out there – How to choose the right one for you? Today at Explore-Share.com, we've gathered the team to come up with a list of some of the most impressive high altitude ski mountaineering peaks. Have a look! What exciting ski mountaineering goal are you going to attempt next?
1. Mount Elbrus, Russia (5,642 m)

Wondering what the highest peak in Europe is? Mount Elbrus, located at the heart of the Caucasus Mountains in Southern Russia, close to the border with Georgia, is a dormant volcano with an elevation of 5,642 m (19,510 ft). Mount Elbrus is also part of the exclusive "Seven Summits" club, which groups the highest mountains in each of the seven continents. There are several routes to climb up Mount Elbrus, from east or west.
Have a look at this 11-day Mount Elbrus ski ascent with Ivan Moshnikov.
Best period: April to June
Average trip duration: 8 to 14 days
Check out more ski mountaineering trip in Mount Elbrus.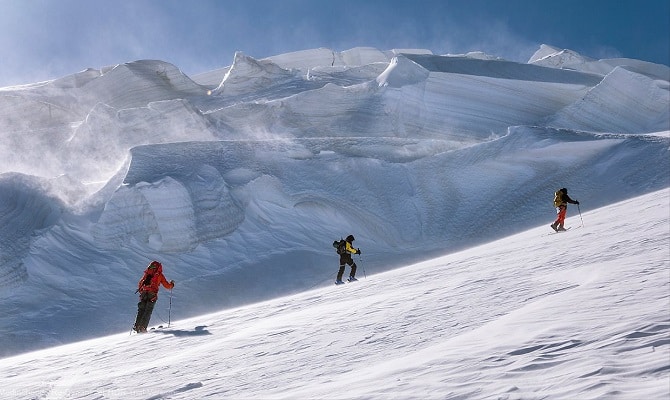 2. Mount Logan, Canada (5,959 m)
Deep inside the Kluane National Park in Canada, right in southwestern Yukon, lies the impressive giant Mount Logan (5,959 m / 19,550 ft). It is of course the highest peak in Canada, and second highest peak in America, coming right after Mount Denali (previously Mount McKinley), in Alaska. Its Massif hosts 11 peaks above the 5,000 m (16,400 ft). Impressive, right? Yet more impressive: tectonic movements cause regular increases in the high to Mount Logan. After an adventurous ascent, Mount Logan offers fantastic skiing descents!
If you are an advanced ski mountaineer, you can go on a demanding – and very rewarding! – 28-day program, like this expedition led by IFMGA-certified mountain guide Brian Jones.
Best period: May and June
Average trip duration: 23 to 28 days
Check out our ski mountaineering trips in Mount Logan.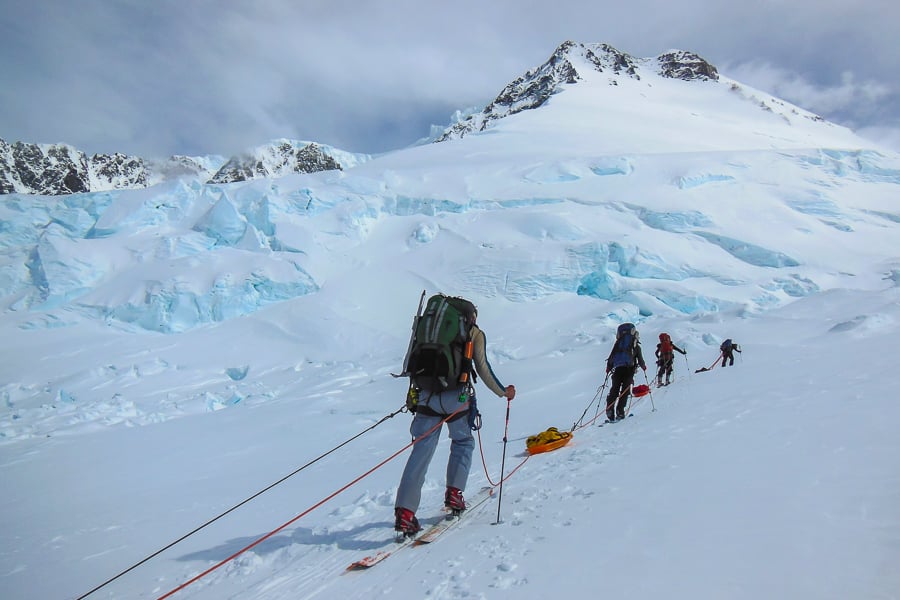 3. Mont Blanc, France (4,810 m)
Mont Blanc (4,810 m / 15,780 ft) is an unquestionable mountaineering classic. Apart from the regular ascent during the summer season (read all about the Mont Blanc climb on one of our previous blog post), during February and April you can attempt to ski down from its summit. These programs usually last between 4 to 6 days and acclimatization is key to success. There are several routes to the summit.
You can try for example this 7-day skiing from the top of Mont Blanc with Marco Tamponi. Otherwise, you can also check out this Mont Blanc ski mountaineering through the Grand Mulets route with IFMGA-certified guide Jan Novotny.
Best period: March to June
Average trip duration: 4 to 6 days
Check out more ski mountaineering trips in Mont Blanc.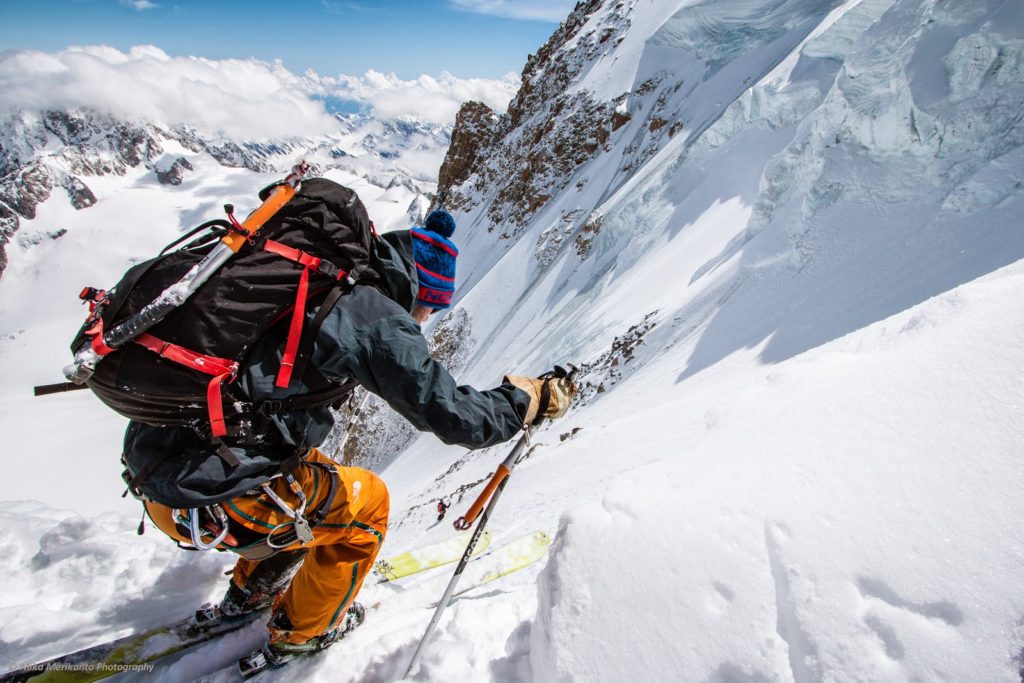 4. Gran Paradiso, Italy (4,061 m)
This impressive mountain massif is located between the Aosta Valley and the Piedmont regions in Italy, almost on the border with France. Gran Paradiso (4,061 m / 13,323 ft) is the highest point of the only mountain above 4,000 m entirely in Italy. Enjoy the wonderful Alpine scenery and fantastic views with this top ski mountaineering destination. Have a look at this 6-day Gran Paradiso ski touring program with IFMGA-certified Jon Dieguez; and this 7-day Gran Paradiso ski mountaineering tour with IFMGA-certified Andres Bahr.
Best period: March to June
Average trip duration: 6 to 7 days
Check out all of our ski mountaineering trips in Gran Paradiso.
5. Mount Kazbek, Georgia (5,033 m)
Ski mountaineering on Mount Kazbek, right on the border between Georgia and Russia, in the impressive Greater Caucasus Range, is a truly exciting experience. On the way up, prior to an exciting skiing descent, you can enjoy unforgettable views of the neighboring peaks – many of which are above 4,000 m. Also, the Mount Kazbek (5,033 m / 16,512 ft) ski mountaineering ascent is a good acclimatization activity before tackling Mount Elbrus (see more details above!), which is relatively close by. Have a look at this 9-day skiing tour to Mount Kazbek with guide Ilia Berulava.
Best period: March to May
Average trip duration: 8 to 11 days
Have a look at all of our ski mountaineering trips in Mount Kazbek.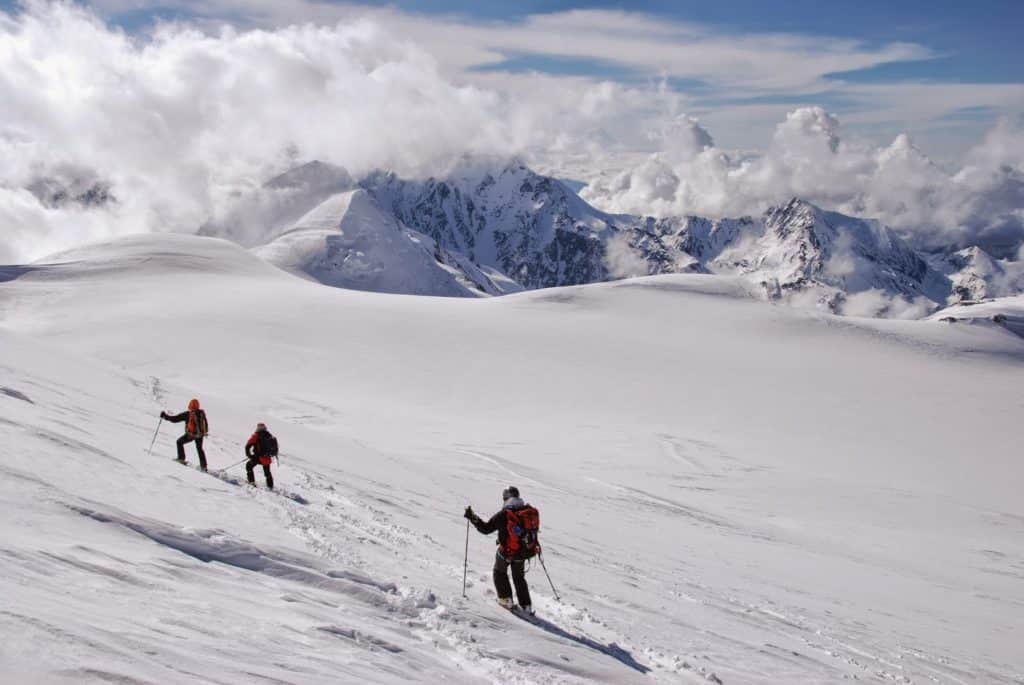 How to get prepared for a high altitude ski mountaineering program:
To join any of these programs, you will need:
A good skiing level and some previous ski mountaineering experience. Different peaks require different experience levels. Make sure you check the specifics, and consider attempting peaks that will prepare you for bigger goals.
A very good general fitness level. Exercising on a regular basis before attempting an ascent is extremely helpful. Stay fit by running, cycling or doing other aerobic activities.
Familiarity with the effects of altitude on your body. It is important to have a good sense of how you deal with high altitudes. Having climbed 3,000 m peaks before is a good way of assessing this.
Be aware of avalanche risks. This is generally a very important risk when attempting high altitude ski mountaineering programs. Make sure you get the appropriate training and knowledge. Your certified mountain guide will guide you on the necessary devices and techniques.
The importance of hiring a Certified Mountain Guide. Internationally Certified Guides have the necessary experience and knowledge to guide you safely on the above programs, and make your tour much more enjoyable.
So, why not give way to your adventurous instincts and give ski mountaineering a try this season? Get your skiing skills and gear ready!
[EXTRA RESOURCES]
Do you know the difference between freeride skiing, ski touring and ski mountaineering? Check out this detailed explanation of what each of these activities entails on this previous Explore-Share.com post.
Want to get into Mountaineering? Have a look at Mountaineering in the Andes: 5 Summits for Beginners.
Want to know more about
Ski Mountaineering in Canada?