Mont Blanc Climb: Facts & Information. Routes, Climate, Difficulty, Equipment, Preparation, Cost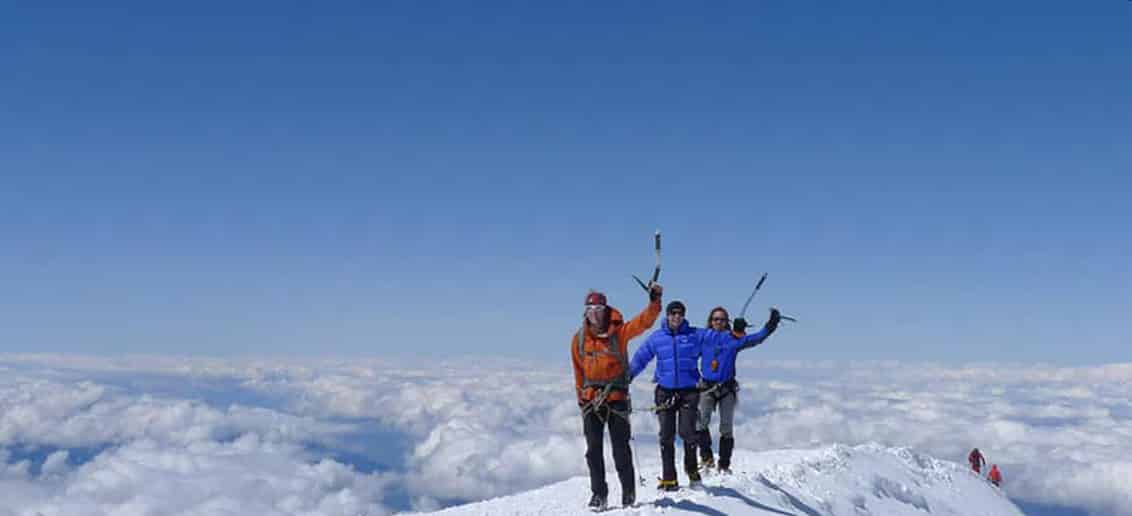 If we talk about iconic ascents, Mont Blanc is without a doubt one of the most iconic in the world! With its impressive 4,808 m of altitude (15,774 ft), it is the undisputed star of the French Alps. It is also the highest summit in Western Europe, which makes it an experience many climbers in the world dreams of.
As legendary as Mont Blanc is, and while it is not a technically difficult ascent, it does present important risks. It can be pursued by climbers with limited skill levels and experience, provided they are in company of a certified High Mountain Guide. But of course, this doesn't mean it is an easy ascent either. On the contrary, it is an objectively dangerous one, as IFMGA-certfied guide Mark Seaton, with 27 years of experience in Mont Blanc, explains.
To begin with, its altitude and the need to navigate glaciated terrain means it requires acclimatization, a good fitness level, previous climbing experience, and the assistance of an IFMGA mountain guide. However, it is rockfall that poses the most important risk.
So, while around 30,000 climbers attempt the Mont Blanc ascent each year, there are extremely important things to take into account. Here is everything you need to know to plan an unforgettable – and safe – climb. Let's get started!
Starting in 2019, mountaineers climbing Mont Blanc via the normal route will need to obtain a license and make a reservation on one of the three mountain huts on this route prior the ascent. A maximum of 214 climbers will be allowed per day in an effort to control overcrowding.
1. STARTING POINT
To start your Mont Blanc adventure, you will need to travel to the beautiful town of Chamonix-Mont-Blanc, in eastern France. Chamonix is the strategic starting point for many outdoor activities around the Mont Blanc massif, from ski touring and snowshoeing in the winter season, to mountaineering and even trail-running. This beautiful alpine town is framed by the unique landscapes of this magnificent massif.
If you need accommodation in Chamonix, here are some places recommended by local mountain guides Isabelle and Robin:
2. WHEN TO CLIMB MONT BLANC
Mont Blanc ascents are most common during the European summer season. The months between June and September are the most popular ones, as long as weather conditions are good. Good weather conditions for the ascent, explains Mark Seaton, include: a clear sky, cold temperatures to freeze the snow hard and no high altitude wind. May to September is also the period during which the huts on Mt Blanc are open.
Also note that global warming has extended the Mt Blanc ascent season, which now also includes the month of May. And a ski mountaineering ascent of Mt Blanc is possible in April and May.
3. ROUTES
There are two main summer routes to reach the Mont Blanc summit, both of which start in France.
The Gouter Route
This is the classic and most popular route. It is also considered the fastest way to the Mont Blanc summit, once you have reached the hut. One possible kick-off point is Les Houches, from which you transfer to the Nid d'Aigle (2,372 m) via cable car and the mountain railway. Another usual starting point is Saint Gervais. The night before going for the summit is spent at the Gouter hut (3,815 m).
From the hut to the summit, the terrain is mostly glaciated and requires the use of crampons, harness and ropes. Mark Seaton also adds that it is important to keep in mind that the ascent's main challenges are found in the segment below the Gouter hut.
After summiting, the descent can be completed via the same route, or by traversing over to the Aiguille du Midi. Yet, guide ratio restrictions apply: to descend via Aiguille du Midi, the guide ratio is 1 to 1, which means that each guide can only take one client. This is part of the reason why most groups descend via the same route they took for the ascent. Some people also choose to take the same route down in order to pass by the Gouter hut, where they usually leave extra equipment not necessary for the summite attempt.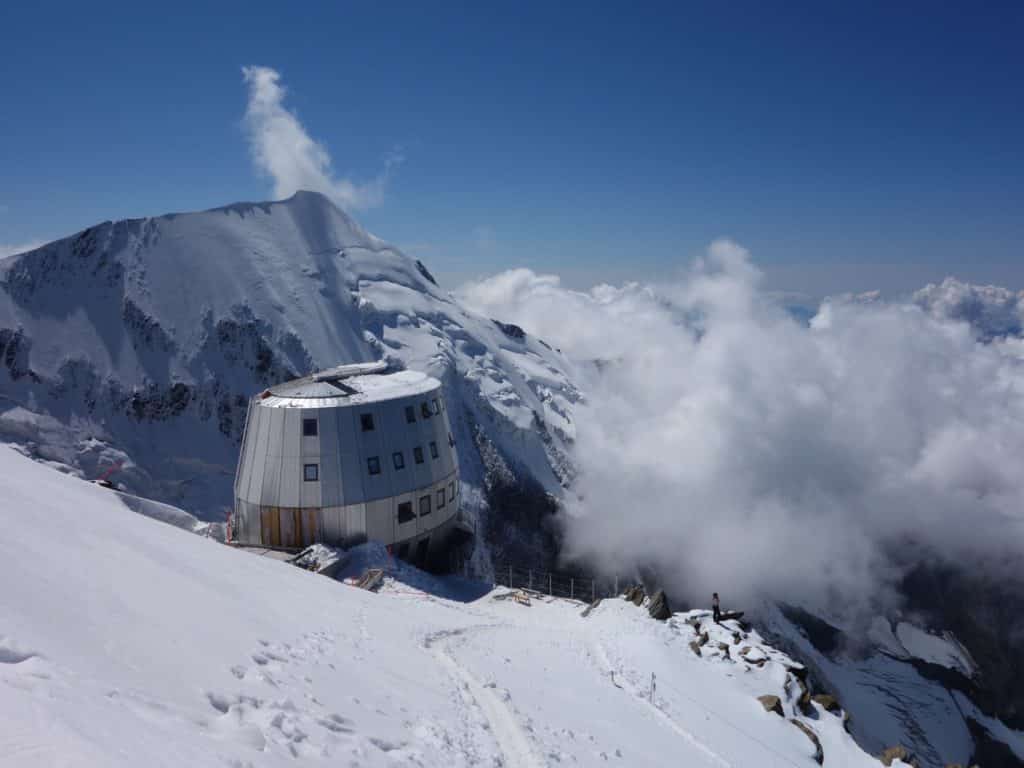 The 3 Monts Route
This is a more technically demanding version of the Mont Blanc ascent, compared to the Gouter Route. This route is known as the traverse of "Les Trois Monts" – or "The Three Peaks" – because of the three peaks it touches: Mont Blanc du Tacul, Mont Maudit and, finally, Mont Blanc. It is objectively serious because it traverses under a lot of unstable seracs and is prone to avalanches.
The 3 Monts Route starts at Chamonix. It starts by taking the Aiguille du Midi (3,842 m) cable car. For summit day, there are two options. The first and safest option, IFMGA-certified mountain guide Mark Seaton explains, is to spend a night at the Cosmiques Hut and make a very early start (2 am), ascend to the summit, and then descend back to Chamonix in the afternoon. This allows climbers to take advantage of the overnight freeze that will have made the snow safer, considerably reducing the dangers of wet snow avalanches. This is best practice.
A second option is to start the day very early at Chamonix, take the first cable car in the morning, climb to the summit, and then sleep at the Cosmiques Hut (3,613 m) after the ascent. This option requires a fast ascent to make the best of the morning. It is only feasible if as long as the weather is good.
The descent can be done via the Gouter Route or via the same way.
Other routes
There are other routes to the Mont Blanc summit, including some that start in Italy.
4. DURATION
Mont Blanc ascent guided programs can take between 2 and 7 days, depending on the different routes and itineraries. Programs that last more than 2 days include acclimatization stops and training activities, both of which are important for a successful and safe ascent at this altitude.
5. FITNESS AND TECHNICAL LEVELS REQUIRED
Both routes (see "Routes" above) require a good acclimatization, as well as a good fitness level. One of the big challenges is altitude. On top of this, given the glaciated conditions of Mont Blanc, you will also need experience using crampons and ice axe. Due to the possibility of encountering crevasses, all guided parties will be roped.
The Mont Blanc ascent also presents significant risks of stone and rockfall as well as avalanches, for which you should also be prepared.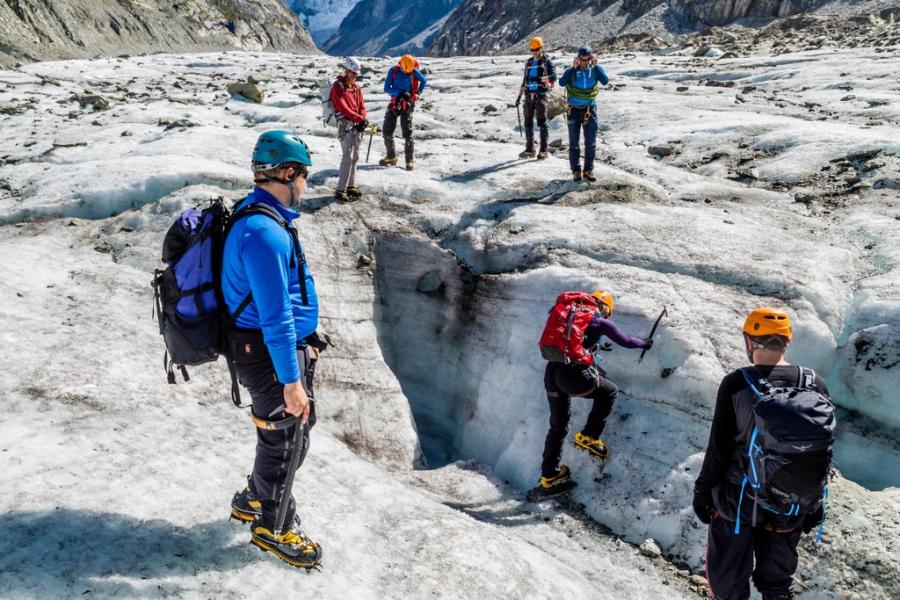 Looking to learn mountaineering techniques while climbing Mont Blanc? Some programs are presented as mountaineering courses. These include more thorough explanations on the technical aspects of mountaineering – typically including the use of crampons, ice axe and avalanche risk. Still, this ascent is not for beginners and can't be taken as an introduction to mountaineering. You definitely need prior experience to attempt the Mt Blanc ascent.
Have a look at this 5-day Climbing Mont Blanc and Gran Paradiso program, with IFMGA certified guides from Namaste Mountain Guide. This tour includes learning the basics of mountaineering.
Or check out this personalized 1-climber 4-day Mont Blanc course and ascent, with guide Kyriakos Rossidis.
6. WEATHER CONDITIONS
During the climbing season – June to September (see "When and where" above) — temperatures along the Mont Blanc ascent range between 20° at Nid d'Aigle and -20° at the summit. At the top, it is usually extremely windy as well. Temperatures at the valleys along the way can vary between 15°C and 25°, and between 5° and 15° on the passes.
The ideal time for this ascent used to be August, although due to global warming this is not as clear nowadays because of the increased risk of stone fall.
As we mentioned before, according to Chamonix based mountain guide Mark Seaton, this ascent requires: clear skies, cold temperatures and a forecast of no wind. This is why "warm weather" is not necessarily desirable. For a safe ascent, freezing overnight temperatures help make the snow more compact and reduce rockfall risk.
Also, as a mountaineer it is important to learn to manage your own expectations and know that the ascent is always subject to weather conditions.
7. WHAT TO PACK? – EQUIPMENT
To climb Mont Blanc you will need to pack thoroughly. The basic items you will need are: warm waterproof jacket, mountaineering boots and crampons, harness, rope, ice axe, helmet, sunscreen, sunglasses and headlamp. Check with your guide to see which of these items are already included as group equipment. And be prepared for potentially changing weather conditions! (See "Weather conditions" above).
Most of the equipment can be provided by your guide, or rented at Chamonix, Les Houches or Saint Gervais.
IMPORTANT NOTE: Since August 17, 2017, all climbers attempting Mont Blanc through the Gouter Route are required to have a minimum level of equipment and clothing. This was issued as a municipal order by the Mayor of Saint-Gervais, Jean-Marc Peillex. Climbers who fail to comply with this regulation can be fined with €38.
8. GUIDE RATIO
Most guides accept a maximum of 2 climbers per group for the Mont Blanc ascent, if it is done via the Gouter Route. Also, sometimes the authorities allow only one client per guide. This is the case for tours that include the descent via the Aiguille du Midi (see "Routes" above for more details).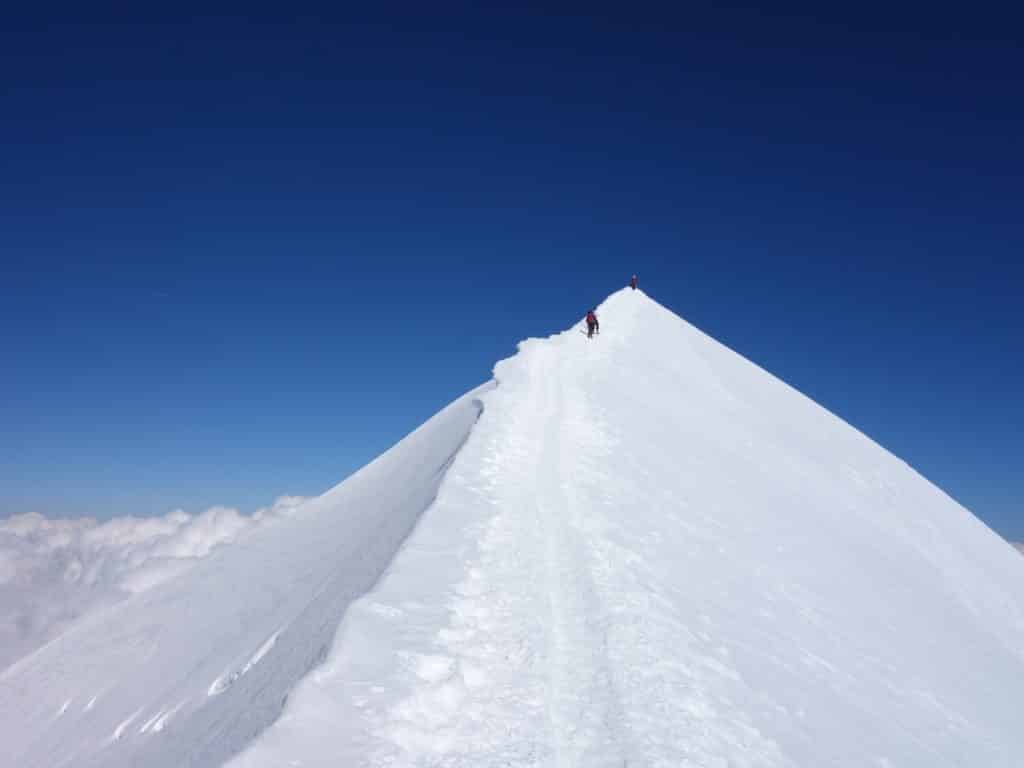 9. COST OF THE EXPEDITION
The main factor that influences the price of the Mont Blanc ascent programs is the number of days included. For the ascent only, the guiding fee for the 2 days will be of an average of €990.
Longer programs include acclimatization days and can cost around €2300. For example, this 7-day guided climb with IFMGA certified Francis Kesley.
Some of the 2-day ascents (see "Duration" above for more information), can cost around €525 per person for a group of 2, like this Mont Blanc 2 Day Guided Ascent with IFMGA certified guide Robin Revest.
Price generally includes the guiding fee alone. Some possible additional expenses are:
Tramway fee
Aiguille du Midi lift
Accommodation cost at the Cosmiques hut or the Gouter hut
Other transfers
Equipment rentals
Mountain guide's expenses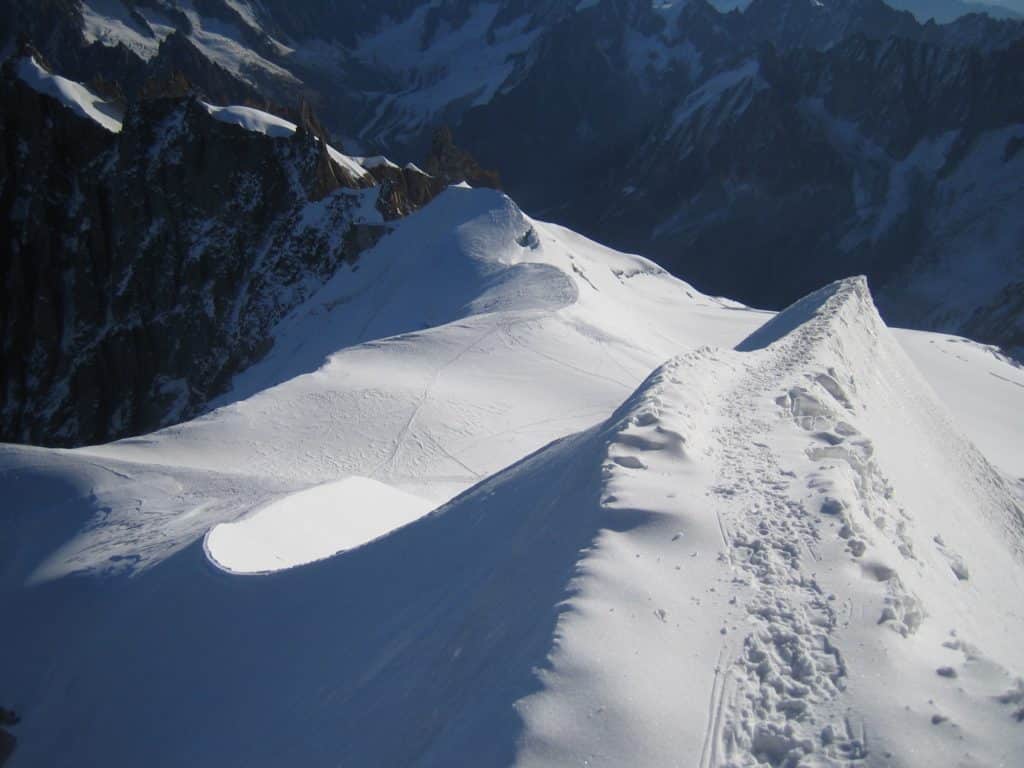 10. ACCLIMATIZATION OPTIONS
As mentioned above (see "Duration"), the Mont Blanc ascent requires good previous acclimatization. If the ascent programs – typically 2-day tours – doesn't include acclimatization, you will probably need to book it separately.
Some acclimatization options for the Mont Blanc climb include attempting other peaks in the area like:
11. HOW TO GET PREPARED FOR CLIMBING MONT BLANC
Take into account these 8 fundamentals and maximize your chances of a successful climb:
A good general fitness level. Exercising on a regular basis before attempting this ascent is extremely helpful. Stay fit by running, cycling or doing other aerobic activities.
Familiarity with the effects of altitude on your body. It is important to have a good sense of how you deal with high altitudes. Having climbed 3,000 m peaks before is a good way of assessing this.
Mountaineering skills. It is important that you are familiar with these skills, plus know why and when they are important. The technical skills you will need for this ascent are: walking in crampons, walking roped up in a group on a glacier, using an ice axe, being aware of the dangers and risks of crevasses and rockfall.
Acclimatization is crucial. As mentioned above, going on activities that will help you with acclimatization before the ascent is key.
Hydration. Drink water regularly and effectively.
Sleep. Get plenty of sleep before starting your program. Being tired can be dangerous or reduce your chances of reaching the summit. Be sure you know what to eat when you are tired but not necessarily hungry. Be prepared for this.
Equipment. You can rent part of the equipment before initiating the ascent. Make sure it is in good condition and that it is of good quality. Check with your mountain guide to make sure.
Expectations. Remember that weather conditions are the key piece of information you will need. Weather can make or break your chances of success. Your mountain guide can provide all the necessary information in this regard.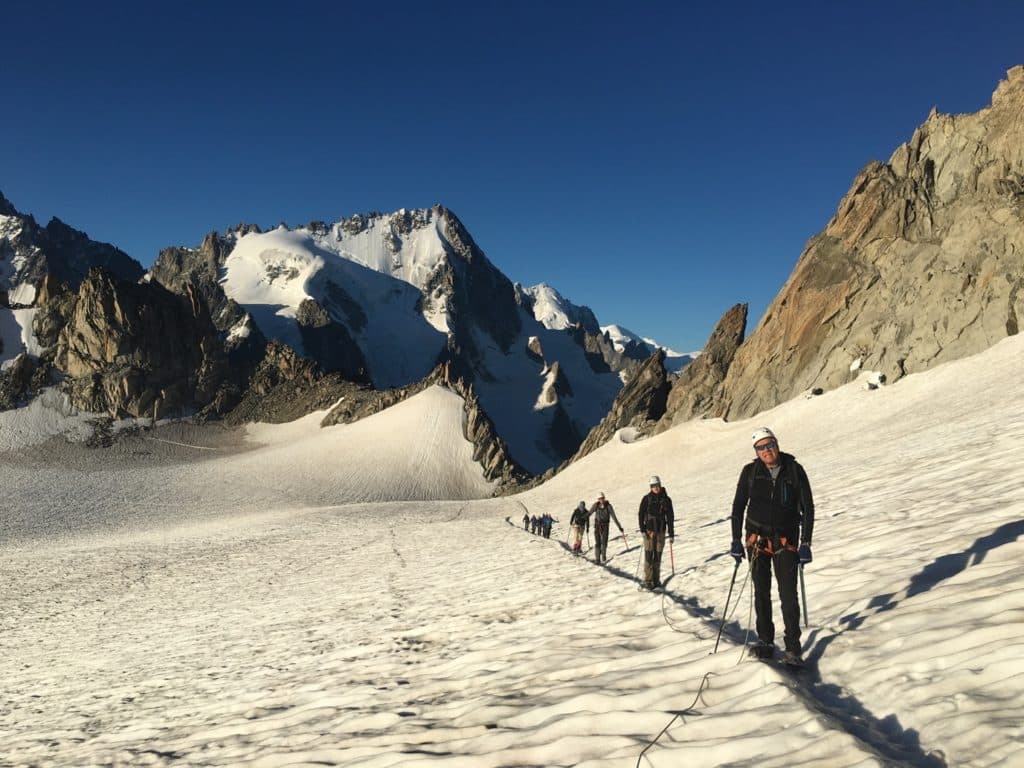 12. WHAT TO DO NEAR MONT BLANC
The area in the Alps around Mont Blanc offers countless other activities, some of which you can be great complements as acclimatization before your ascent.
All of them are also great alpine activities in themselves, in case you are looking to get to know the area. Check them out! We've selected activities for different difficulty levels:
Check out all the different Mont Blanc ascent programs you can book through Explore-Share.com!
We thank expert IFMGA-certified mountain guide Mark Seaton for his valuable inputs based on his 30-year experience in climbing Mt Blanc.
Want to know more about
Mountaineering in France?