What you need to know about Ski touring in Patagonia

Patagonia is becoming a top destination for skiers because of its vast unexplored landscapes, its volcanoes, high quality powder and a unique culture. Oh, and don't forget world-class quality meat and wine! Here is some information you shouldn't do without if you plan to ski touring in Patagonia.
Unlike other popular skiing destinations, Patagonia has many areas of jaw-dropping beauty that still don't receive a lot of skiers.
In El Chaltén, Baguales, Ushuaia and the Volcanoes of Araucania you can have the whole landscape for yourself. It is usual to get the feeling that you are the first human being ever skiing there.
Besides, Patagonia is a very unique setting as the Andes is the highest mountain range in the world after the Himalayas.
Whether you plan to ski in Argentina or in Chile, it is important to be well-informed about some details, like how to choose a mountain guide, or where to lodge and buy gear, so take a look at this guide to arranging an awesome ski trip.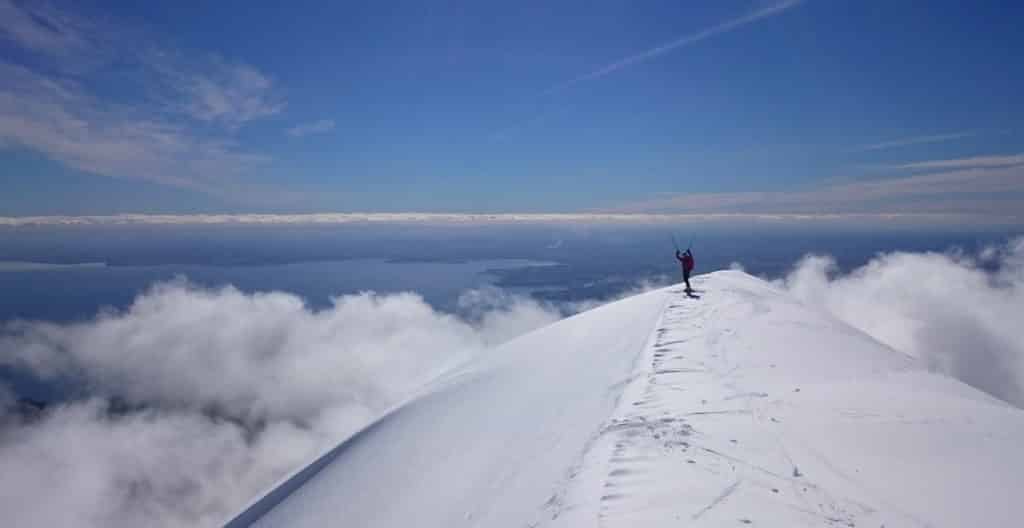 Which are the best ski locations in Patagonia?
There are several places of spectacular beauty with excellent snow conditions for skiers to venture forth, but here are some highlights that you should definitely consider when arranging your trip:
BARILOCHE
Bariloche is Argentina's most popular destination for fans of ski and mountaineering. It receives lots of tourists —over 100,000 foreigners and half a million locals— every year, so you will get a remarkable service when it comes to accommodation.
Cerro Catedral is the biggest ski resort in South America, but it also offers great terrain for off-piste skiing away from the crowds. And from Catedral's ridge you can access the huts circuit, where you can spend days ski touring in vast valleys with amazing snow in between Frey, Jakob, and other refuges. Here you can check a 6-day trip option, a 5-day trip, and a 3-day trip option.
Other day trip possibilities are to go skiing to Cerro Lopez, Cerro Ñireco or Cerro  Challhuaco.
Another great option, an hour dirve from Bariloche, is the Mountain Reserve of Baguales, a paradise for ski touring and catskiing, with several huts that connect the whole area, and a fully equiped lodge to rest and enjoy after some intense skiing days.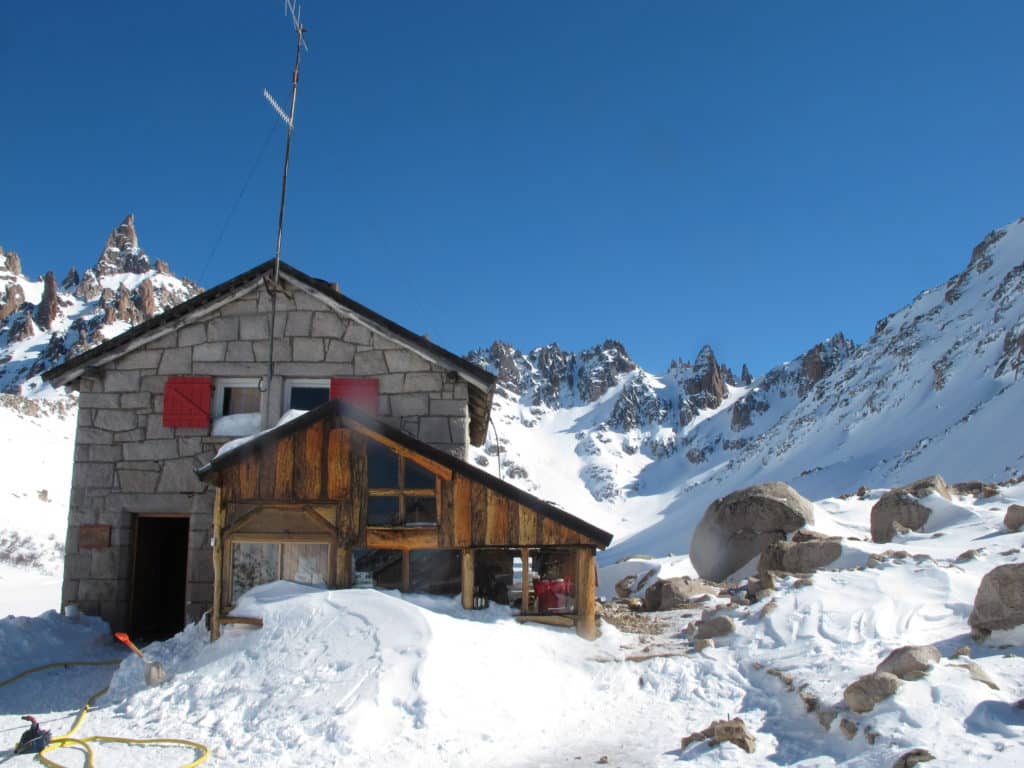 EL CHALTÉN
El Chaltén is a village far to the south of Patagonia, in Santa Cruz, about 140 miles from Calafate. It doesn't get packed with tourists in winter, although its amazing landscapes are considered by some as the most beautiful in Argentina.
It is considered the country's hiking capital, but in the past years winter sports are also breaking ground in the region. This esoteric condition turns it into a mecca for elite-skiers looking for undiscovered tracks and unique experiences.
There's no ski resort there, so everything is about backcountry and ski touring. So get your skins ready, and prepare yourself to ski with some of the most astonishing views you'll ever imagine, like Mounts Fitz Roy and Torre, and the Southern Ice Field.
You can check a couple multi-day recommended trips, here and here.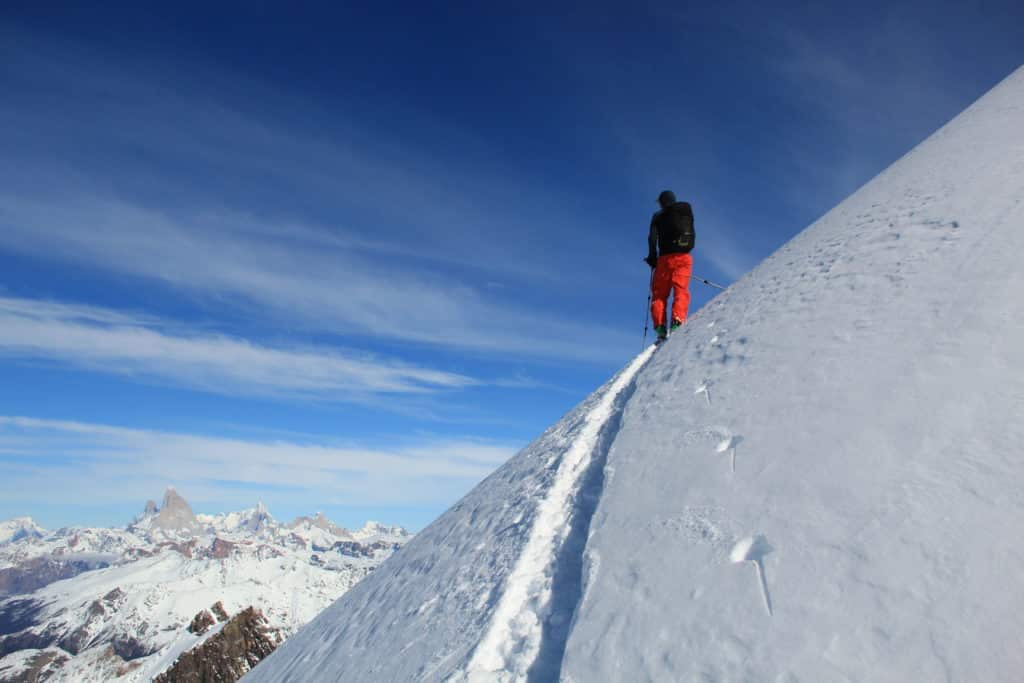 THE VOLCANOES
Even though Lanín, Villarica, Lonquimay and Osorno may not ring a bell to many people, they are some of the world's highest skiable volcanoes, with altitudes around the 16,000 feet, and every year receive heavy snow falls that render them in the best possible conditions for ski tours.
Starting from Bariloche, San Martín de los Andes, or Pucón, possibilities are endless on both the Argentinean and Chilean sides of the Andes, so going with a local certified guide will give you the possiblity of enjoying the best spots according to the weather and snow conditions.
This 8-day program is a smart choice to get a glimpse of the region. Or this other 10-day option if you have a longer time frame available.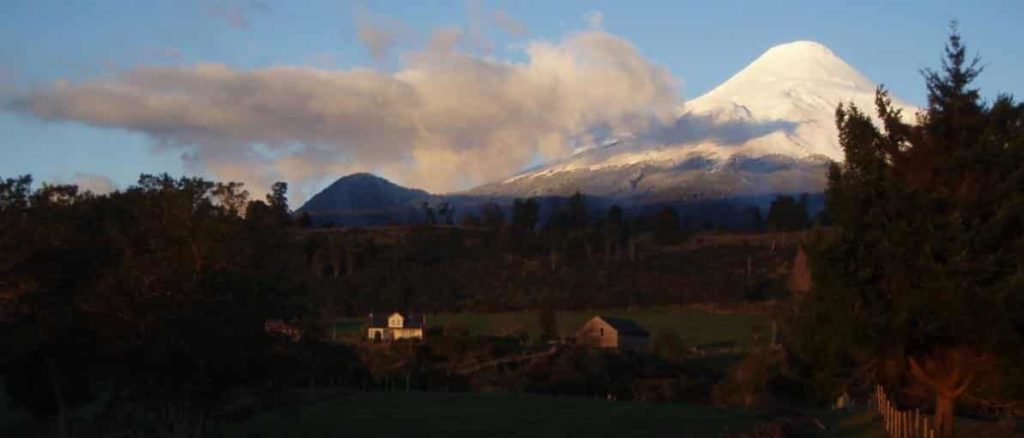 Best periods for ski touring in Patagonia
The Ski season in Patagonia starts around June and finishes in October. The southern the destination, the colder the weather, so it starts snowing earlier in the year. So the skiing conditions last longer. September and October are usually considered the best months for ski touring.
However, if you are travelling from abroad, you might want to make sure that you come here to find the best conditions for your ski runs. That's why, for foreigners, it is preferable to aim for trips from July to September. And Ushuaia, in Tierra del Fuego, is usually a safe pick due to it's longer skiing season.
Bear in mind that, both in Argentina and Chile, winter holidays for students last the whole 2nd and 3rd weeks of July. So the second half of July and first weeks of August are usually considered peak season in most ski resorts, and prices are usually higher. If you are not really into crowds, but more into a lone, peaceful skiing experience, you should consider this when arranging your trip.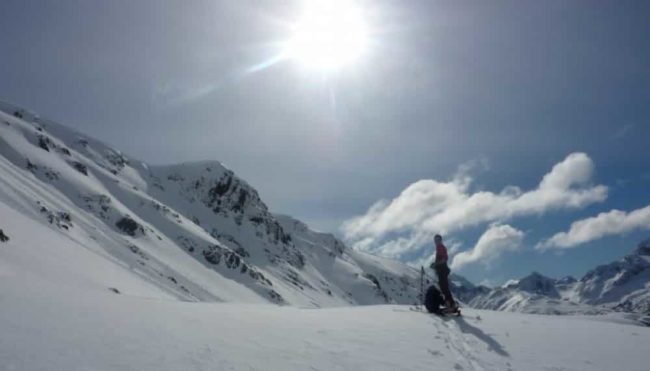 Which are the best resorts for Off-piste skiing?
If you are looking forward to do some freeride ski in the surroundings of a ski center, consider visiting any of the following resorts:
Las Leñas
The ski resort in Las Leñas, in Mendoza province, allows for awesome panoramic views over the treeline. It offers a very thorough lift-access all around its terrain which extends over more than 200,000 acres, with narrow chutes and open bowls allowing for a fantastic ski experience.
Catedral Ski Resort
Catedral allows for backcountry skiing over 3,000 acres, with spectacular views of snowcapped summits and several lakes. As mentioned, it is the biggest ski resort in South America.
The ski center at Portillo, near Aconcagua and the internatinal pass 'Cristo Redentor', is probably the most famous in Chile. Its features include a fitness center, a disco, a bouldering wall and even a swimming pool. But just outside bounders, you'll find amazing conditions, as described in this program.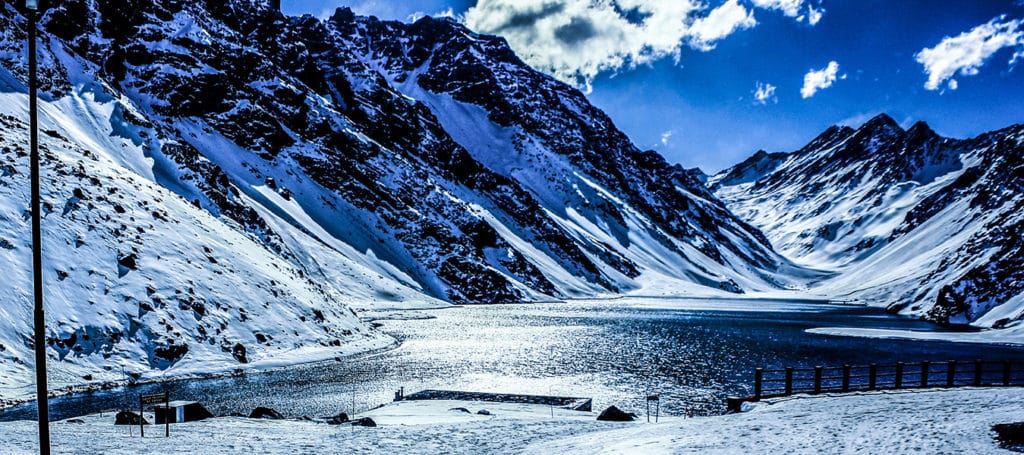 Accommodation between ski trips
For backcountry skiers, you will find different options, depending on the specific locations that you are planning to ski on:
In El Chaltén there are no ski resorts, but some mountain refuges and huts. Many ski spots can be reached in a day trip, returning to the village to sleep in any of the multiple hotels and hostels. While when doing longer trips, in some places there are refuges where to sleep, for example Gorra Blanca refuge, while in others camping under the stars is the only option.
In Bariloche, instead, the ski resort at Cerro Catedral, offers many cozy places to sleep for those doing off-piste ski, with plenty of options ranging from budget to luxury accommodations. While those touring away from the ski centers can find comfort in the mountain huts in Frey, Jakob and Baguales. There you can also combine skiing days in the backcountry with nights in the first-class lodge.
In regard to reaching the different spots, you can move from hut to hut with your skis, explore the locations «en étoile»—staying on a single refuge between ski runs—, or road tripping in a Ski Safari.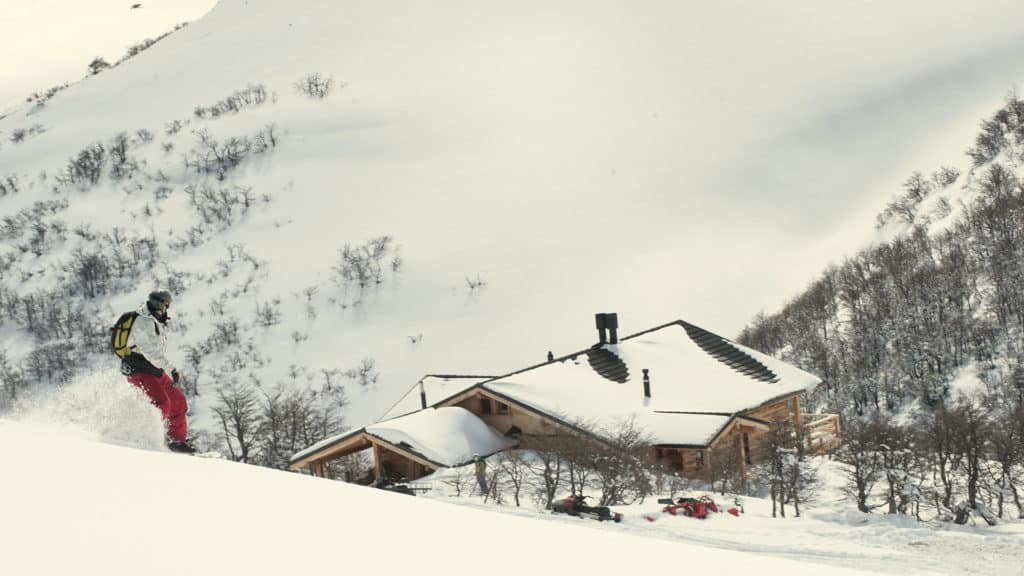 Weather / Snow powder conditions for ski touring in Patagonia
Near the Argentinian/Chilean border, the dry weather and the winter snow falls allow for perfect skiing conditions. Expect to find some awesome powder caches!
The volatile weather in the Volcanoes may sometimes condition the skiing. But it is also one of the reasons you can get the finest powder there.
Other locations that have become famous for the possibilities of their snow include El Chaltén and Frey.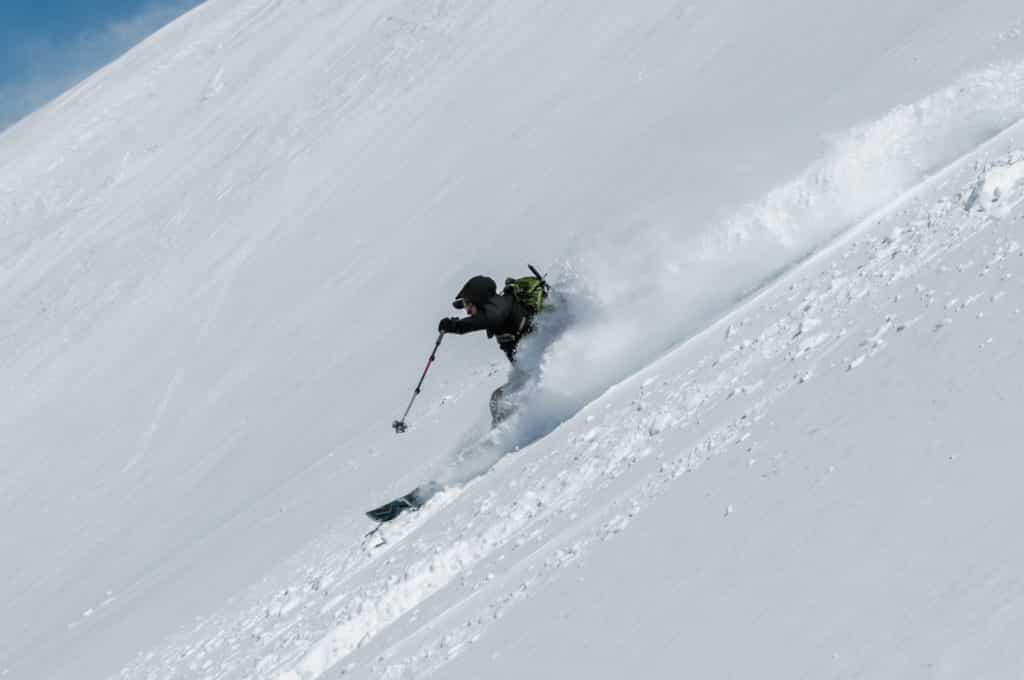 Finding the best guide for your ski touring in Patagonia trip
When looking for a guide in the Andes, you should look into this:
Qualification! You are going to ski in the beautiful wilderness of some vast and barely inhabited regions. Be sure you travel with someone knowledgeable. Aim for an IFMGA or AAGM certified guide whenever possible.
The best Patagonian guides are well-known for their friendliness and knowledge of the culture. Having a friendly local tell you about the history and geography of Patagonia or some not-so-well-known spot for skiing is nothing short of invaluable. Probably, he will also know how to prepare some good Asado.
If you want to, we can help you find and get in touch with local AAGM / IFMGA certified guides, as we highly endorse their skills and qualification.
Buying or renting the right gear
Some expeditions may mean too much of a strain for them ol' skis. So we suggest you to ask your mountain guide about everything related to equipment needs. He will know better the exact conditions of the snow or the necessities of the expedition.
More often than not, you may choose not to bring some apparel with you to save some luggage space. In that case, you can rent some of those items at El Establo, Los Troncos or Xtreme School, in Bariloche, or at the Calafate Mountain Park before parting towards El Chaltén. Again, double check with your guide for other options.
In case you need to buy anything after landing in South America, whether it be Buenos Aires or Santiago, buying the equipment in the city will probably be the most unexpensive option. You'll find more fully equipped stores in Santiago than in Buenos Aires.
If you want to acquire some accessories or apparel while in Patagonia, you still have some options left. When travelling to El Chaltén, make a stop in Calafate to gear up; if you are not going so far south, but to Bariloche, Baguales or the Volcanoes instead, you can get virtually any ski paraphernalia at the Cerro Catedral Shopping Mall.
Getting there
Take a while to decide how to reach Patagonia. At what international airport should you arrive: Buenos Aires, in Argentina, or Santiago de Chile?
If you plan to ski in Bariloche or El Chaltén, arriving to Buenos Aires will surely imply a second, internal flight to the airport in San Carlos de Bariloche, or to El Calafate if you aim for El Chaltén. While Santiago de Chile is closer so you can opt for a reaching Patagonia via a long-distance bus.
If you happen to spend some days in the city, you should consider enriching the whole of your trip experience with the liveliness —good wine and a hectic nightlife are the order of the day— of any of these South American cities. Both are well worth spending enough time to get a glimpse of their unique lifestyles.
Try to opt for a flight scheme based not only on the locations where you are planning to ski, but also on your personal taste for the distinctive cultures of each city: do you prefer the Tango and world-class meat in Buenos Aires? Or do you fancy plenty of seafood and Pre-Columbian art as you may find in Santiago?
---
Want to know more about
Ski Touring in Argentina?