When it comes to legends, Mt. Olympus is legendary. It is the highest point in Greece, a country chock-full of cultural significance and unimaginable history. In Greek mythology, it was the home of the Gods and the peak of Stefani was considered "Zeus's Throne." The name has appeared again and again across the world and over time, yet nothing can compare to this larger-than-life mountain. It is the epitome of legend.
Located in the Olympus Range between Thessaly and Macedonia, Mt. Olympus features 46 peaks exceeding 2,000 meters. The apex lies at Mytikas (2,917m), while "Zeus's Throne," or Stefani (2,909m), is a notable summit for its role as the Greek God's personal – you guessed it – throne. The second-highest peak, Skolio (2,911m), is a great place for rock climbing along its north face.
From 1938, it has been a national park with an amazing array of fascinating wildlife and plant life. And to top it all off, it possesses deep gorges, high couloirs, and daunting summits that beckon adventurers from far and wide to hike its trails and conquer its rock.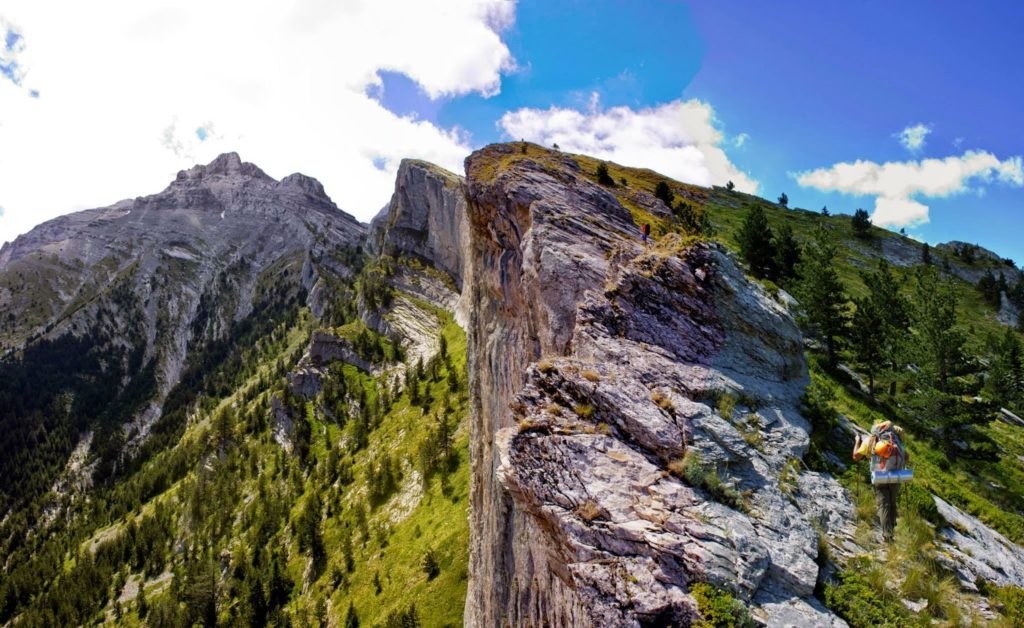 It was declared a UNESCO Biosphere Reserve in 1981, and for good reason. The region is home to an eclectic range of species that are unique to this stunning landscape, including falcons, foxes, and even extinct bear and lion species.
Olympus is an iconic part of the Greek skyline, and views from the summit extend over land and sea. You can glimpse the sparkling Mediterranean in the distance, as well as far-off destinations beyond its northern borders. It is estimated that roughly 10,000 climbers ascend Mt. Olympus each year, though the elusive top rock of Mytikas is never attained by all of them. It is considered a non-technical hike, though there is Grade III scramble near the summit.
Adding a guide to your trek can enhance your appreciation of the trip and boost the overall level of fun and satisfaction. There are plenty of nooks and crannies along the way, including local secrets and deep-rooted cultural destinations, so an insightful companion can provide invaluable guidance on this epic mountain.
Climbing Routes
The first successful summit of Olympus was in 1913, though the lower peaks, such as Profitis Ilias (2,803m), have been ascended throughout history. Over the years, access has improved, and it is now a popular attraction for tourists, travels, and sports enthusiasts.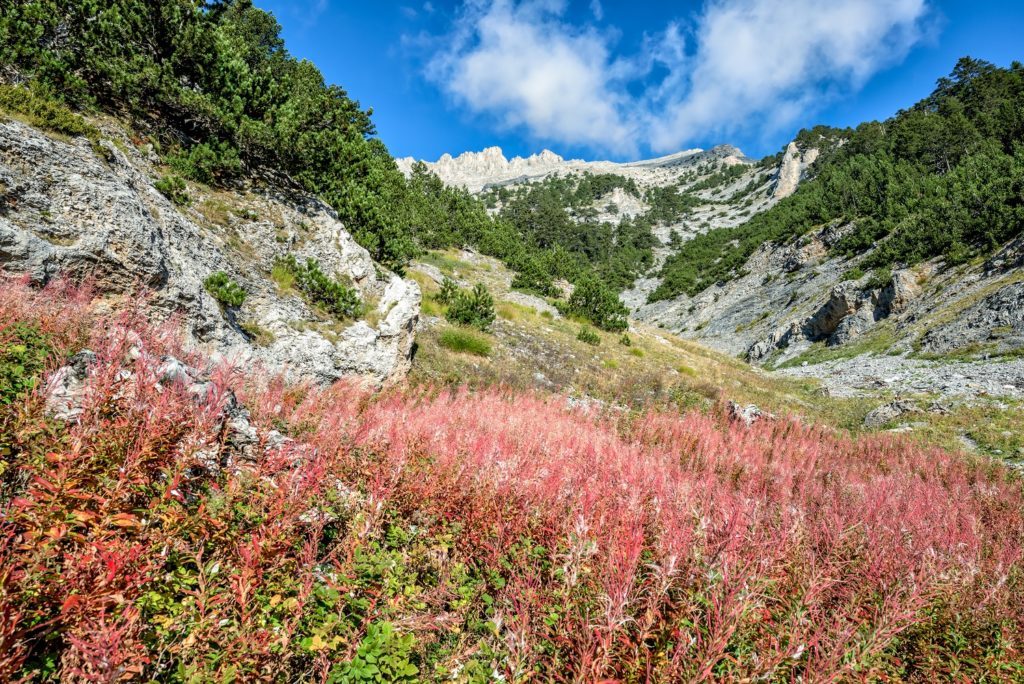 With a few different options for accommodation, and a few different peaks to wind through on your way to the top of the mountain at Mytikas (2,917m), you have a pleasant selection of great routes. Regarding trails up to the mountain refuges, you have two great choices: Prionia and Gortsia.
The Prionia Trail
The Prionia Trail (1,100m) is part of the E4 international hiking path, which includes an extended portion from the town of Litochoro to the Prionia Trailhead. By starting in Litochoro, you hike through the Enipea Canyon along an enchanting trail that includes everything from charming wooden bridges to the historic Agios Dionysios Monastery. It adds lakes, valleys, and unique mountain geology to a delightful trail before reaching the Prionia Trailhead and the rest of the hike.
Directly from the Prionia Trailhead, you begin your three-hour trek to Spilios Agapitos Refuge (2,060m) with a hike along a heavily forested path. The charming trail offers great views at various points over six kilometers, and the trees are added protection from the sun. The final leg of this portion has an open zig-zagging path with a high risk of sun exposure.
Once at the Spilios Agapitos Refuge, you will head towards Mytikas, the highest peak on Olympus at 2,917 meters. This part of the climb includes a stretch of loose gravel that is difficult to ascend. Along the way, you will pass the lower peak of Skala (2,866m). From the top, you will take in unimaginable views that extend all the way to Bulgaria and Albania.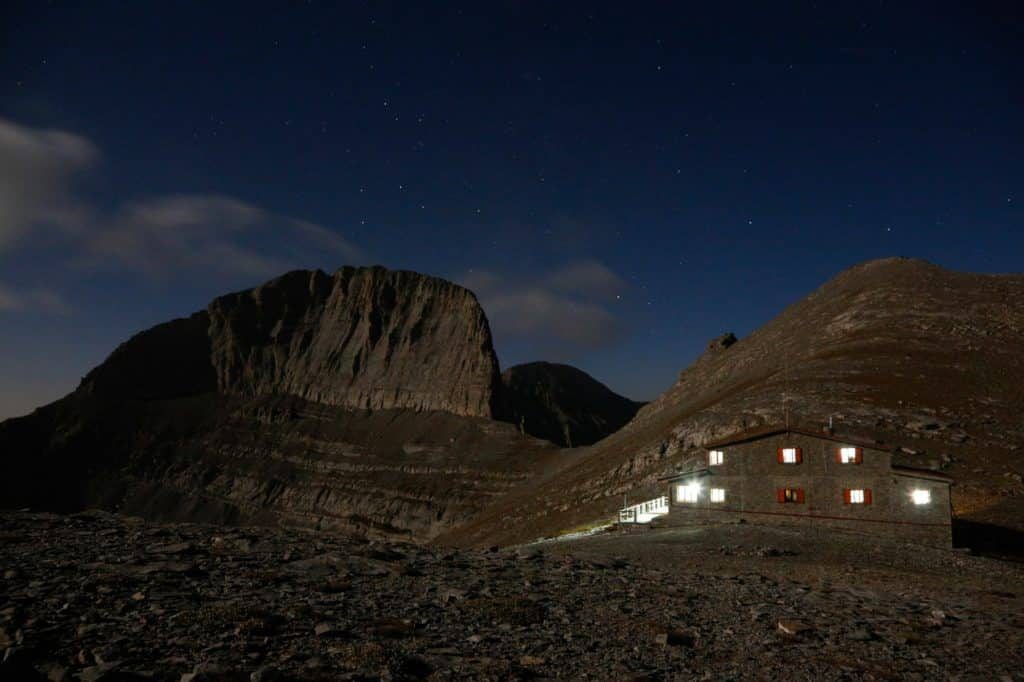 If you had a more challenging route in mind, there is a route through Louki to Mytikas. This part has steep hazards and should be approached with caution and care. The loose rocks can pose dangers for all climbers. Safety equipment is strongly recommended.
The Gortsia Trail
The Gortsia Trail is less crowded and is a bit easier. Its increased duration makes hikers more prone to sun exposure. It begins through a dense forest, and then climbs via two branches – one steep and one meandering – to meet on Skourta at 2,475 meters. You will reach the Muses Plateau with access to both the Kakkalos Refuge (2,650m) and the Apostolidis Refuge (2,697m).
Continuing to the foot of Stefani peak, easy scrambling will pass you through a couloir to the summit. You have arrived at the top and can now take in the unprecedented views of Greece all the way to the sea.
Starting Point / Distance
There are exciting possibilities for starting the hike to Mytikas (2,917m), the highest peak of Olympus. The first is from Litochoro, which involves an eight-hour hike to reach the Spilios Agapitos Refuge, followed by a three-hour (or more) climb to the top from the south. In total, this hike covers 20 kilometers over 11 hours from start to summit with an elevation gain of over 2,550 meters.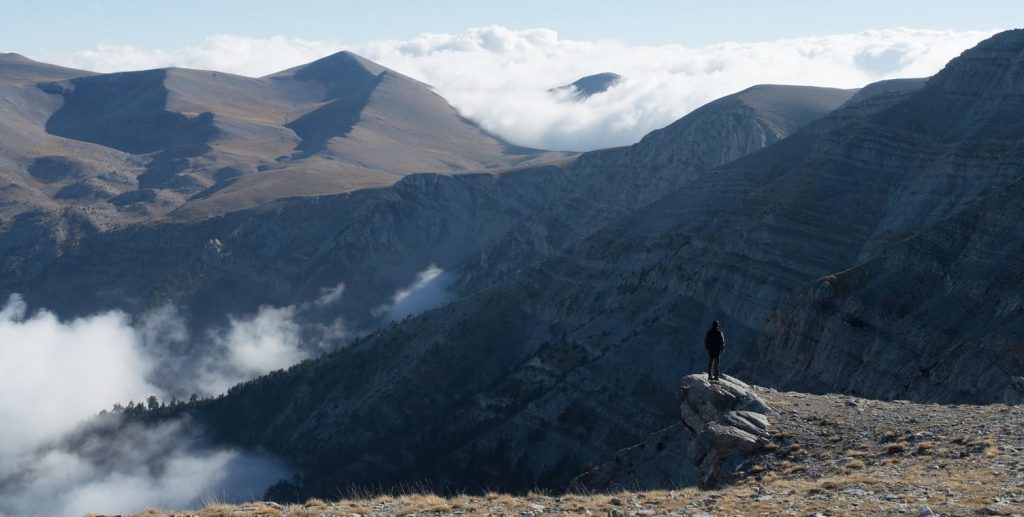 The Prionia Trailhead (1,100m) offers the same hike but cuts 11 kilometers and five hours off the Litochoro trek. The trailhead is closer to the summit and has its own parking area. Beginning here can save time and energy, though it does exclude an element of aesthetics and allure. In total, it is a nine-kilometer hike over six hours, with an elevation gain of over 1,800 meters.
It is also possible to start from Gortsia Trailhead (1,100m). This route can pass through either the Christos Kakkalos Refuge or the Giosos Apostolidis Refuge, which are in proximity to one another. This route takes six or seven hours from trailhead to the top to complete, and approaches from the north.
Duration of the Ascent
A general expedition to the top of Mt. Olympus takes about two or three days, though the volume of possible routes both up and around the mountainside can keep a devoted hiker or mountaineer busy for weeks.
The first day is usually reserved for reaching one of the popular and accommodating mountain refuges to prepare for an early summit on the second day. Depending on the availability of the hiker, a descent to the refuge for a second night allows for an additional day of exploration on the surrounding peaks of Olympus. Treks can also descend back to the origin trailhead or Litochoro to conclude the second day.
The approach hikes can take anywhere from two hours to eight hours. Understanding the physical requirements and obstacles at every leg of the route will help determine how efficiently you move up and down the mountain. Reaching the summit from one of the refuges involves a sustained hike of up to five hours, depending on the circumstances and abilities of the trekkers.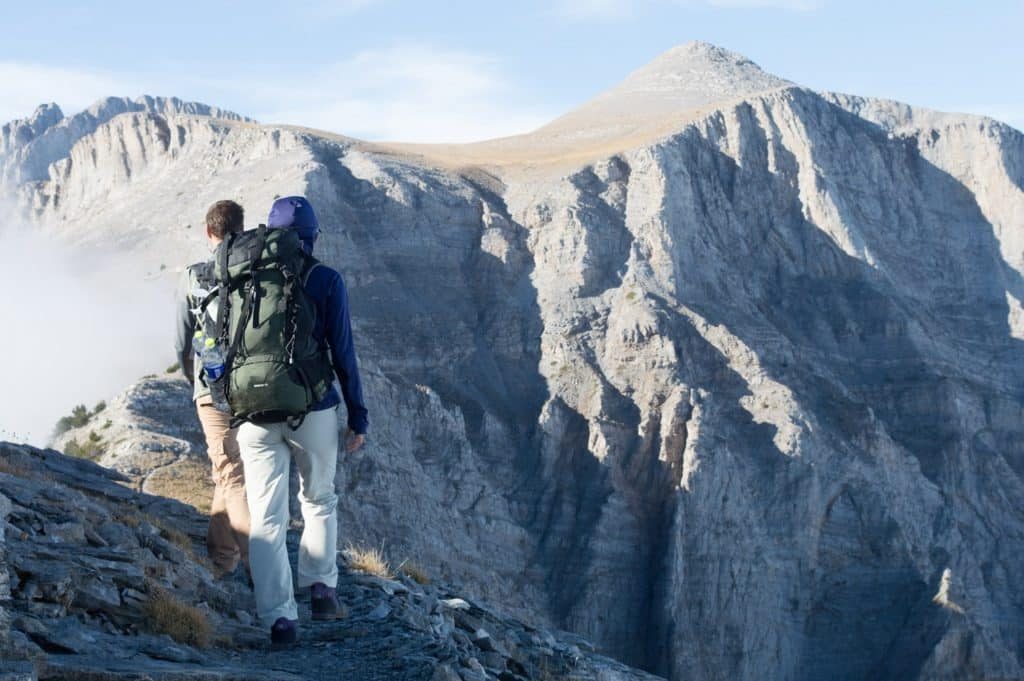 Mountain Huts
On your ascent up Mt. Olympus, there are six different mountains huts along the way. They are open during summer and peak climbing season, and though not all are open indefinitely, many have availability off-season. Snacks and supplies are available at all the refuges, and all but Vrysopoules Refuge offer meals.
Main Mountain Huts
Spilios Agapitos Refuge (Refuge A) sits at 2,060 meters at Balkoni and features electricity and a telephone. It is open from mid-May to late October. Offering over 100 beds with pillows and blankets, you must bring your personal toiletries, towels, and a sleeping bag or bedsheets with you. Reservations are an absolute must. Prices start at €13.
Keep in mind that winter expeditions face dangerous obstacles and avalanche risk.
Christos Kakkalos Refuge (Refuge C) is high on the mountain (2,650m). If you are lucky, the experienced mountain climber who maintains the hut and can offer advice and recommendations for your trek. This refuge has about 18 beds for accommodation. Prices start at €13.
Giosos Apostolidis Refuge, at 2,697 meters, is on the high ridge between the peaks of Toumba and Profitis Ilias. It has 66 beds to accommodate travelers, and while it is open from early June to October, it continues to function as an emergency refuge during the winter season. It also has a dining area and kitchen.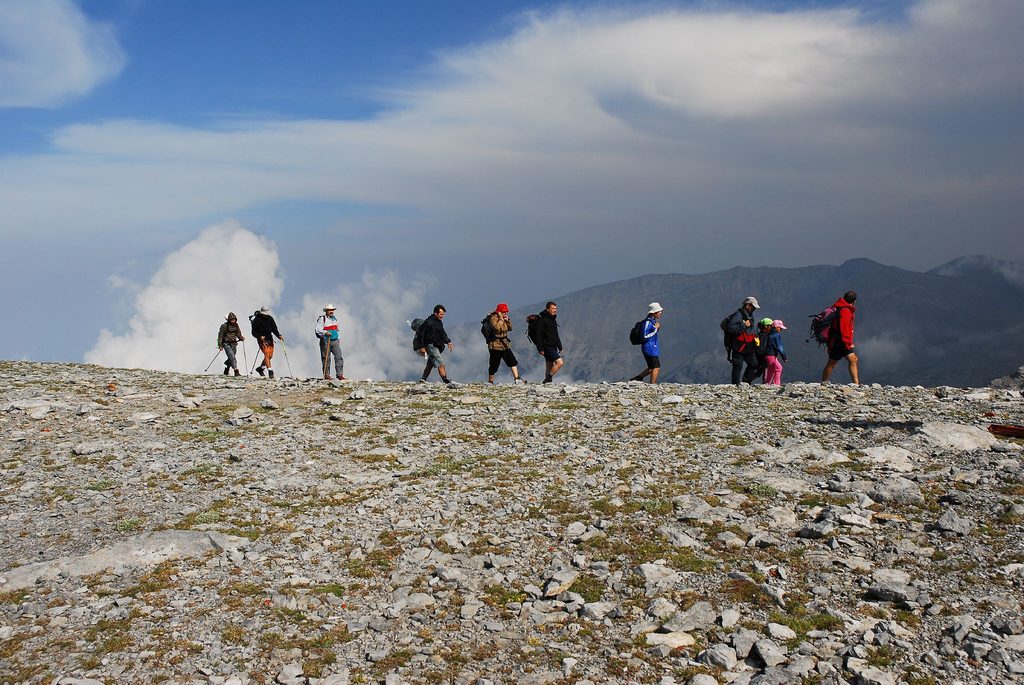 Other Mountain Huts
Vrysopoules Refuge (Refuge B) requires a permit as it is in a military zone. Its 25 beds at 1,800 meters provide minimal accommodations, operating on a BYOB – Bring Your Own Blanket – policy.
Stavros Refuge (Refuge D) is a great refuge for tourists and visitors who aren't heading to the summit. It has 30 beds and features fresh spring water, though it is often a pit stop for coffee and food.
There is a new refuge in Krevatia as well at 1,000 meters. It can be reached on an hour-and-a-half trek from Agia Triada Vrontous and has 30-bed accommodation.
In addition to these six refuges, Livadaki has a small hut and there are three other emergency shelters on the mountain.
Climbers and mountaineers wishing to ascend Olympus off-season must contact key holders and arrange to pick up the keys ahead of time to the desired hut. Some huts also close for the evening, thus making time-management an important asset on each day of your hike.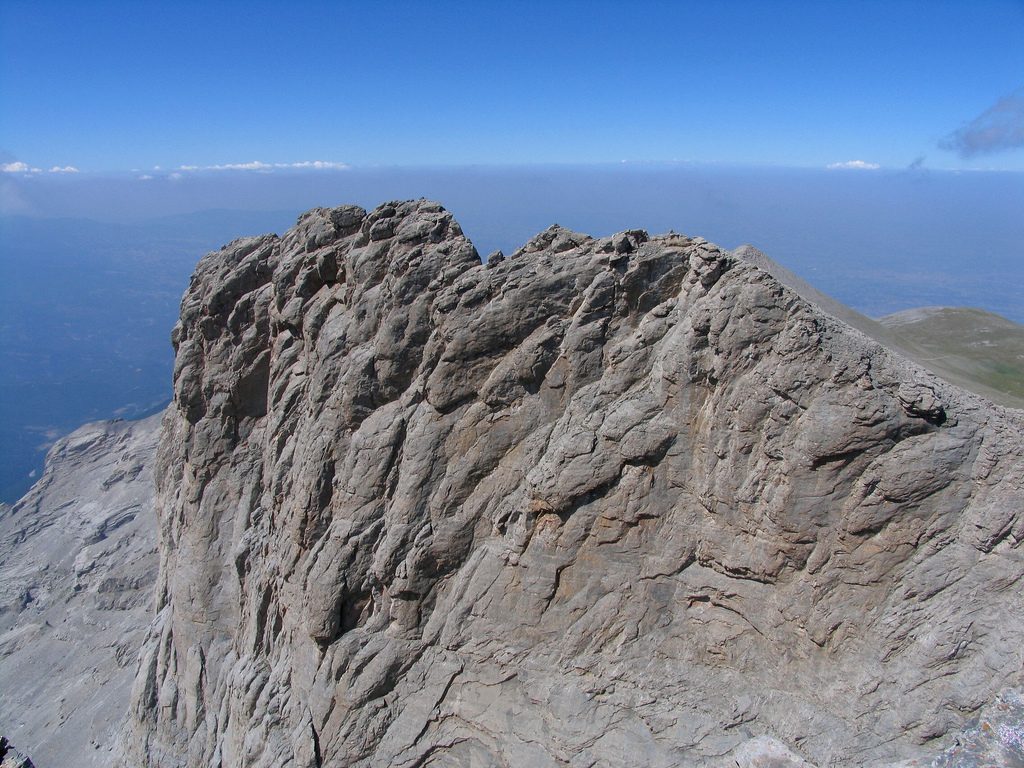 Camping above the tree line is also permitted for those who are willing to carry out garbage and waste to leave the area better than they found it. The Muses Plateau is a phenomenal location to camp and take in the beautiful scenery surrounding Mt. Olympus.
Physical Requirements / Technical Difficulties
The ascent up Mt. Olympus is challenging and is considered a Class III climb. For the most part, you will be facing scrambling over loose rocks. There is also some exposure, so be aware of your surroundings and move carefully to avoid a fall. You should be in good shape to complete the ascent.
Some of the peaks, including Mytikas and Stefani, have routes that feature technical climbing. These contain additional obstacles beyond rock scrambling, therefore requiring additional gear and preparation to complete. They are not required for a successful summit and are often considered more of a rock climbing venture than a hike.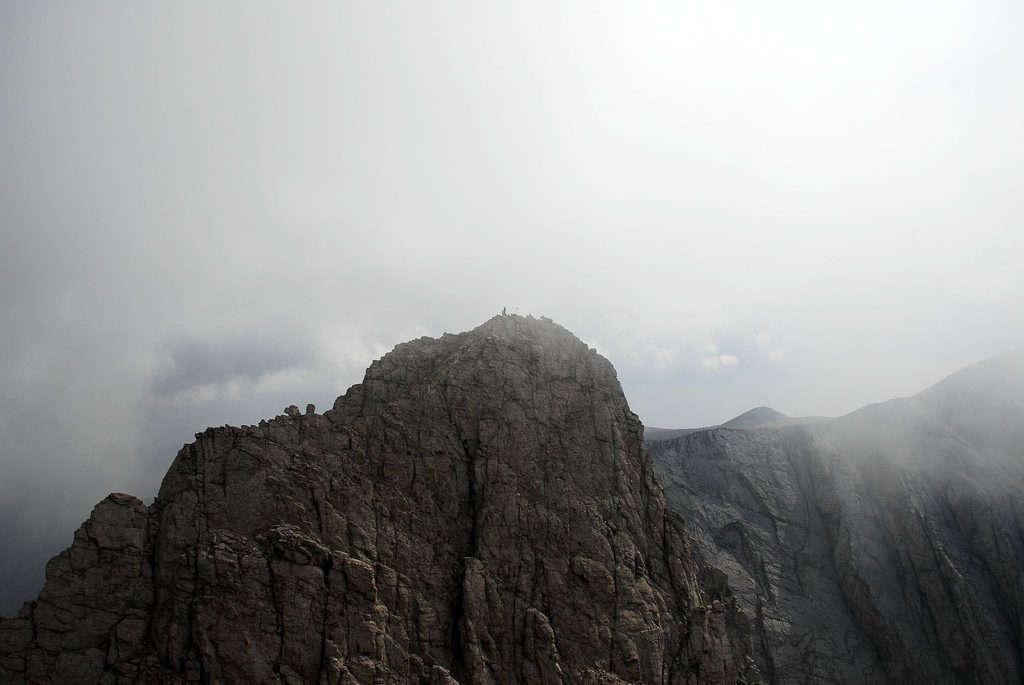 Climate Conditions
The weather on Mt. Olympus is cool and comfortable during the summer. It becomes more volatile approaching autumn and winter, with the possibility of torrential rain and hail as early as August. Snowfall and winter conditions can begin in October and last through June of the following year.
The severity of the weather increases with the elevation regardless of the season. It behooves climbers and mountaineers to expect unstable conditions and to plan accordingly for all possible circumstances, from wind and rain to drastic temperature changes.
Equipment
The experience level of the hiker may play a role in what equipment is necessary, as does the route. While a helmet and trekking poles are not required, they are always a great idea. The following is a list of appropriate equipment for a summer ascent:
Helmet
Trekking poles
Hiking / mountaineering boots
Durable pants and jacket
Backpack
Sleeping bag
Toiletries for overnight stays (personal hygiene items, towel, bed sheets (if necessary)
Energy snacks and water
Sun protection
If you plan on a more challenging ascent during the off season, you may need an ice axe, crampons, and climbing equipment for hazardous weather.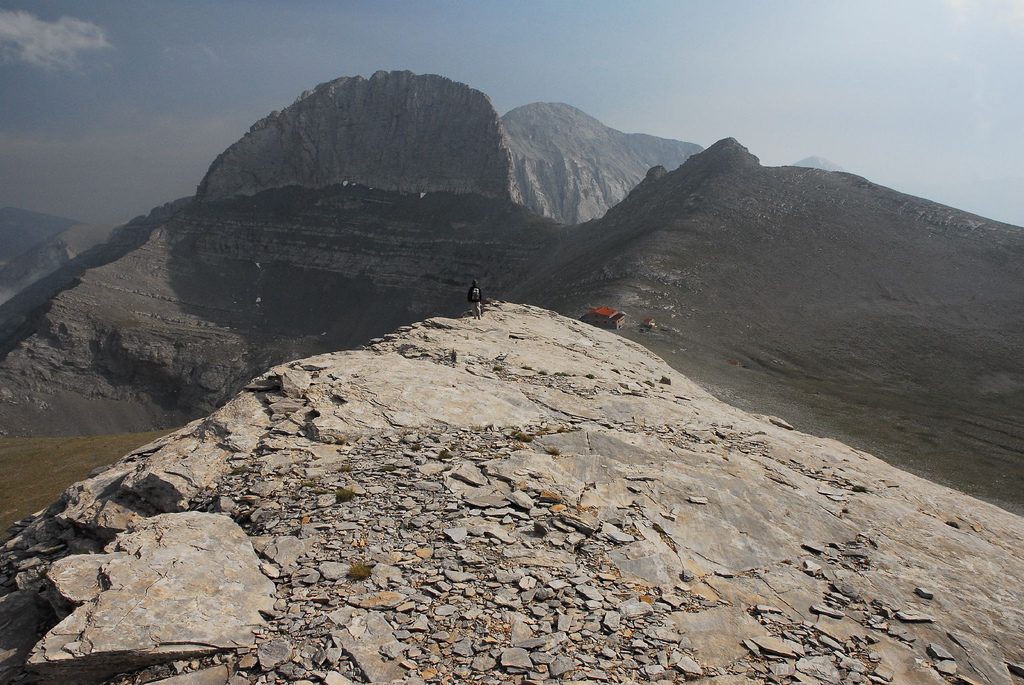 Estimated Price
Taking a guided hike up Mount Olympus is a wonderful way to make the most of your experience. Trips start as low as €150 for a three-day climb and offer plenty of different routes and additions to satisfy any level of hiker. You can expect to spend anywhere between €167 to €750 depending on the length of your trip, what is included, and the size of your group. Some programs also feature additional objectives and challenges along the way, like a hut-to-hut hiking tour.
Including more participants in a program adds friendly faces to share in your achievements, so bringing friends along with a guide can increase the fun while decreasing the price.
Other Activities in the Area
Hiking Mt. Olympus is an impressive achievement, and to celebrate there are an abundance of other activities to enjoy as well. With a seaside location in an awe-inspiring country, you will have your pick of how you want to enjoy this fabulous landmark.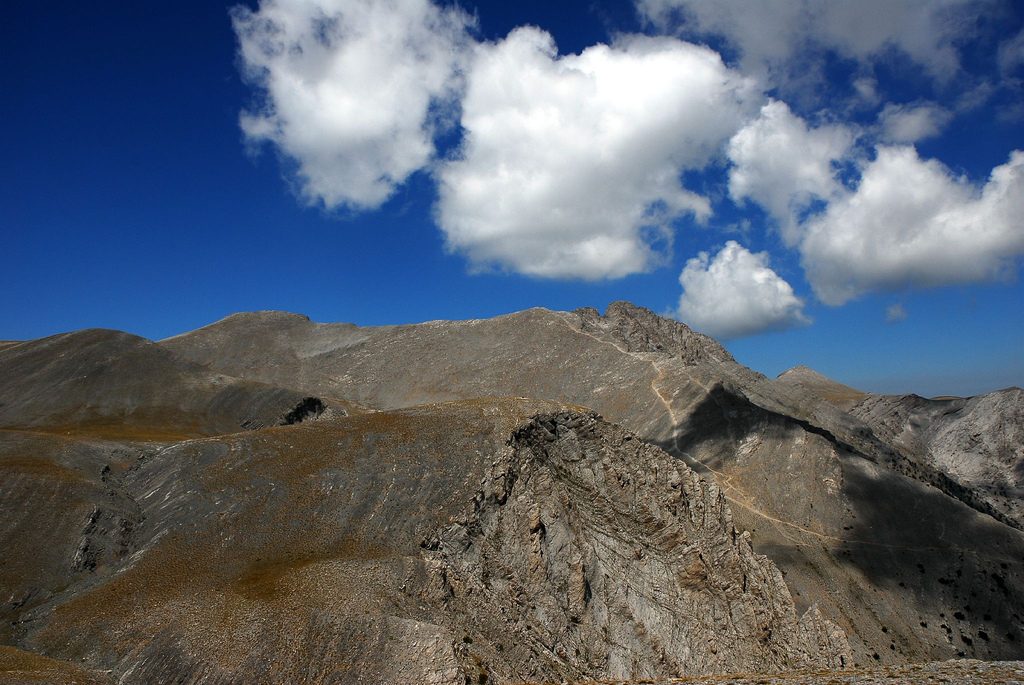 Greece is well-known for its access and accommodation of ski touring, and this mountain is one of the reasons for its success and popularity. Because snow can linger on its peaks until June, it is a great way to travel up and down a mountain to explore the historical culture of the legendary rock.
Rock climbing also has its fair share of routes here. The jagged terrain and various inclines allow climbers of every level to test their skills on several courses.
The surrounding areas away from the mountainside are also popular destinations for hiking, and often provides a more relaxed experience. Without the challenges of reaching the pinnacle of Olympus, hikers can delve into the rich history of Greece, its landscape, and the rewarding process of determining fact from fiction on this mythical mountain.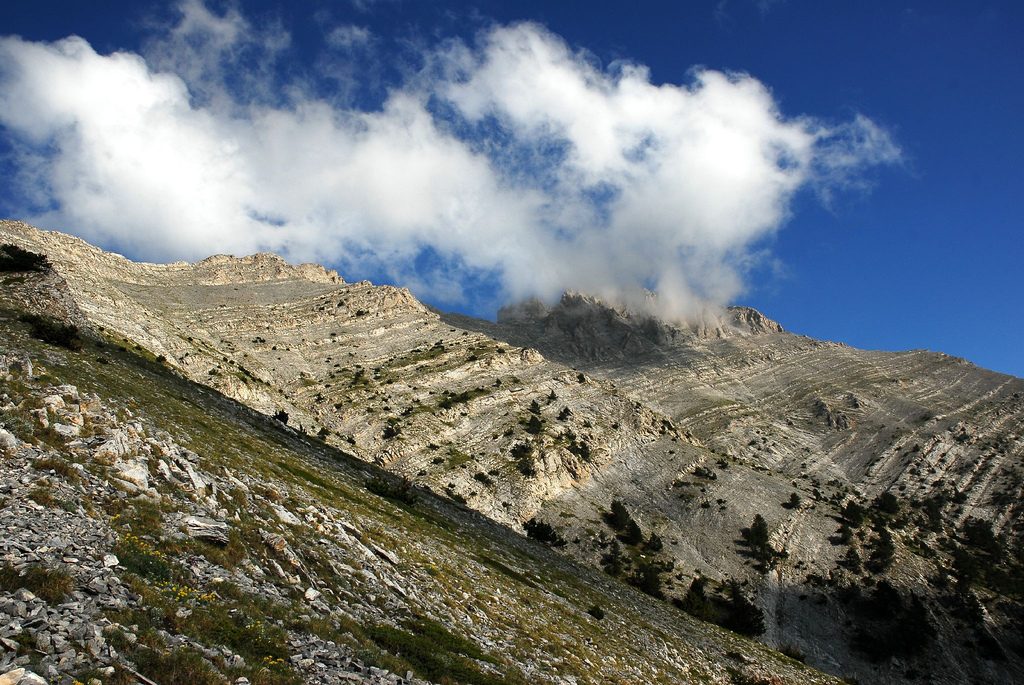 Book an amazing trip to the top of Mt. Olympus TODAY and turn your hiking myth into a dream come true!