Trekking and Climbing in Bariloche: Frey and surroundings

SAN CARLOS DE BARILOCHE, in Argentina, is widely recognized by international tourism, especially because the city is located between nourished landscapes: streams, mountains, lakes. However, we encourage you to get out a bit of the urban or traditional tour.
---
There are places that hold a particular strong appeal just for people like you, who are looking for a new and direct contact with nature, mountain trails, lakes, shelters, snow and forests. That´s why, we suggest you to trek to Refuge Frey, where the climbing area is very attractive because the landscape is unique and there are multiples and excellent opportunities to practice many activities, as well as choosing the degree of difficulty you want. Take into account, of course, it is always advisable to be accompanied by a local mountain guide.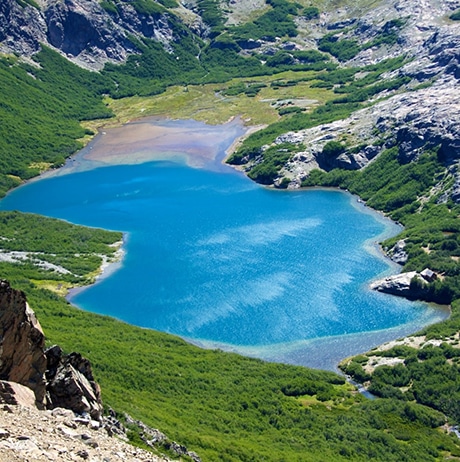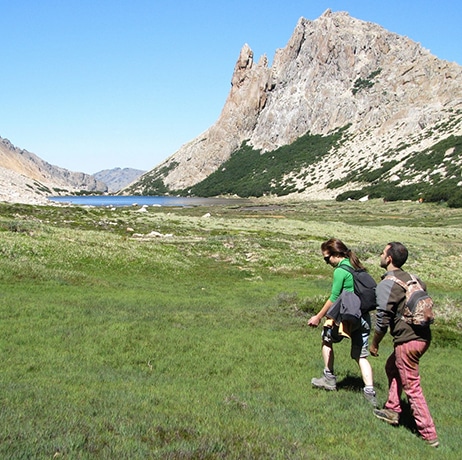 Beyond being a paradise for climbing, one more reason to choose Frey as a destination is that you can combine this retreat with the so-called Jakob, whether walking or doing ski touring during the winter season. And, in order to expand your overview, you should encourage yourself and go for an emblematic trail for adventurers. I'm talking about the circuit that connects four of the most important refuges in Bariloche: Frey – Jakob or San Martín – Italiano Manfredo Segré or Laguna Negra – López. Finally, if in your visit to Bariloche you want to supplement the rock climbing with ice, then do not hesitate to go to Pampa Linda, the town to climb Mount Tronador: Otto Meiling Refuge invites you to add new ingredients of ice and snow to your adventure trip through southern Argentina.
ACCESS TO EMILIO FREY REFUGE
Just 20 kilometers from Bariloche, you will find the beginning of several paths that will take you to Emilio Frey Refuge, located at 1700 meters above sea level –AMSL-.The oldest trail, one of the best options for trekking around Bariloche, begins from the same Catedral village and will take you about 4-5 hours of walking. It has all the flavors of a good walk, since you will walk between "ñires"- native trees from Patagonia-, streams, allowing you to enter to a forest of "coihues" and "lengas". After crossing the Von Titter stream, you will arrive to a small structure –Piedritas-, a refuge located in the rocks and built by a group of Slovenian mountaineers many years ago; after a good rest, you will reach to a winding ascent to meet with the Toncek lake, next to which you'll find the Frey Refuge.

Another access alternative is to rise to Punta Princesa, Cerro Catedral, on ski lifts or cable car. This tour is really promising in terms of the landscapes you'll see during the trek. Here, you will find the famous ski slopes, so if you go on the coldest months of the year, we propose you to do ski touring in the area, combining the Jakob and Frey Refuge. The climb, then, leads you to an edge from where you are able to admire incredible views, such as Mount Tronador. This option is, perhaps, more exposed, with fewer trees and stones, but this does not make it less traveled. In addition, there are marks that guide you along the route. You will arrive at a place known as 'Cancha de Fútbol', where there is a signposted fork that indicates another refuge called Jakob / San Martin, or lead into the area of Frey Refuge and its nearby Laguna Toncek, after skirting another one that is characteristic of that area: Laguna Schmoll.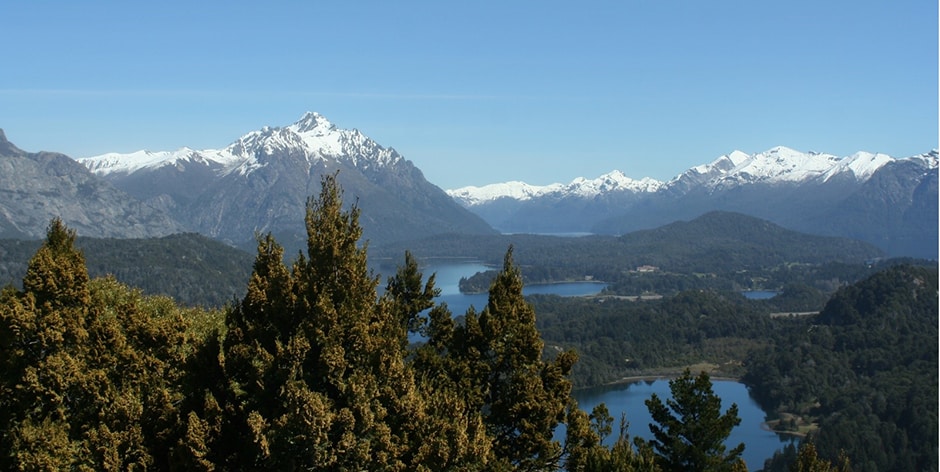 THE HISTORY OF THE REFUGE
Emilio Frey formed, together with other mountaineers, The Club Andino Bariloche -CAB- in 1931. The refuge, that bears his name, opened on February 17, 1957 to celebrate the 25th anniversary of the Club and, despite being expanded -not many years ago-, it retains its original construction elements and forms. It has two bedrooms upstairs, kitchen and dining room with wood heating; it also runs a catering service, so if you choose to sleep there you will feel very much at home in a comfortable and friendly atmosphere. However, this place cannot accommodate all the people who visit it, especially in the summer season, between early December and mid-March, but the capacity of the place to camp around is extensive. From the top you can see many tents distributed among the ñires. Currently, it is thought and discussed a new extension of the Frey Refuge, precisely because of the charm and the number of people that visit this tourist site.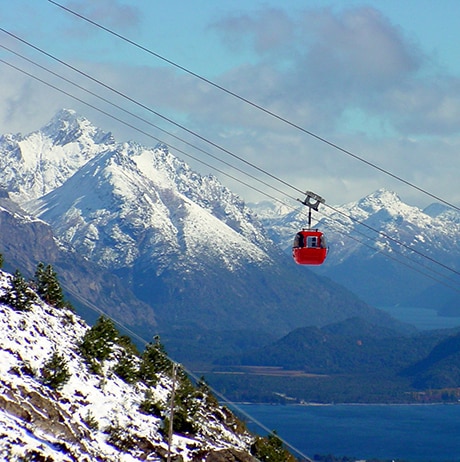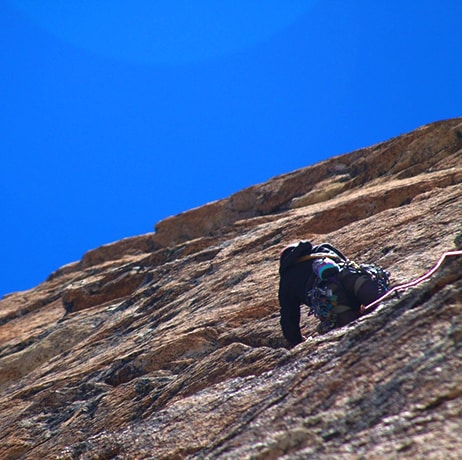 The most exciting thing is to stay there for a few days watching that wonderful "Rock Needle Circus". We suggest you to make a plan of climbing in the area that may include an introductory course, or in case you already have some knowledge about the technique, you can start at any time, from the easiest to the most complicated needles according to the decision of each one. In all cases, we suggest you to be accompanied by a mountain guide, either to get there or for climbing, someone with whom you can share experiences, learn, and above all, prioritize your safety.
The rock is a stunning orange granite and, despite the many existing routes in all the needles, you can always find your own original way. With a relatively easy access to each of the towers, if you like rock climbing -being beginner or not- you will feel yourself overwhelmed by so many beautiful endless possibilities to experience. Now, speaking of each needle in particular, there is a meritorious "Climbing Guide" printed at the end of 2014, whose authors -Rolando Garibotti and Dorte Pietron- present in detail and with photos the different and possible routes with their respective degree of difficulty.
Here you can check out all our rock climbing trips around Bariloche!
HUT TO HUT TREKKING
The Frey Refuge environment is engaging and the surrounding landscape invites you to stay and enjoy, relax, observe, learn and climb.
After taking advantage of all the possibilities offered by the Frey Refuge area, you can pass between Mounts Claussen and Tres Reyes by the Valley of Rucaco (through Brecha Negra pass), and then reach after 5-7 hours walking to General San Martin or Jakob refuge, -located at 1600 meters above sea level on the shores of the lake that bears his name-, and very close to Laguna de los Témpanos, where you can find chunks of ice floating on the surface for a couple of months.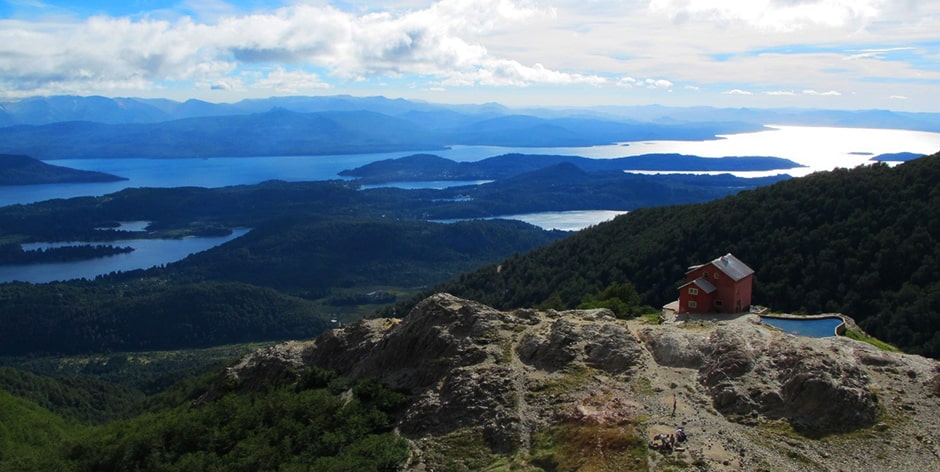 In this area it is possible for you to continue, for about 5 – 7 hours of walk, to Refugio Italia or Manfredo Segré, on the shores of the Laguna Negra, at the foot of Cerro Negro, being this the most technical part of the course. You'll need some Climbing skills to overcome any difficulties in the rock. Then, you will cross the "Cordón de los Inocentes" until the Cerro Navidad; and after descending to the valley you will get to the final stage: the ascent to the refuge, which is about 1650 amsl. The dark rock mountains, that give the name to the lake, surround this Refuge and allow different hiking and climbing activities.
From The Italia Refuge you can access to the López Refuge, at 1600 amsl, crossing the ridge of Bailey Willis Mount, south of Cerro López. This excursion takes about 3-5 hours. From there, you can get one of the best views of Nahuel Huapi Lake and its surrounding area. Here you have more climbing options to choose: La Hoya (often contains snow in summer) or the Tourist Peak (where the whole landscape can be appreciated), just to mention some examples.

It is also very important to know that you can access through the traditional paths to all the Refuges from their base, taking you at least a whole day for each one. So, to make this "Four Refuges Circuit" you should estimate about 5-6 days.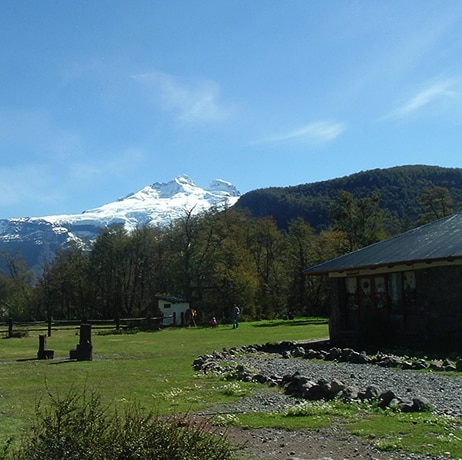 As we told you at the beginning, climbing Mount Tronador and sleeping in Otto Meiling Refuge is priceless: you can make ice activities while enjoying different landscapes and all the grandeur of the place. About two hours' drive from Bariloche city you will get to Pampa Linda, where you will find the Park Rangers in a green field that pays tribute to the name, and where you can observe the prominence of the hill. The walk takes about 5-7 hours and starts on level ground. Then, you will go after a "snail" full of vegetation to pass through "La Almohadilla" and reach to the "Descanso de los Caballos".
Here begins the final part of the climb, advancing by an edge, no vegetation, and with paint marks on the stones to indicate you how to get to the refuge, which is located on the hillside, between Castaño Overa and Alerce glaciers, about 2050 amsl.
The Tronador glaciers offer you an optimum ground to practice ice climbing and glacier hiking. It is called like this because of the sound, similar to the thunder, which produces frequent landslides and falling seracs on the same glacier. From the Refuge you can climb the three peaks of the mountain: Argentine, International and Chilean side, of course, all along with specialized guides, since there are numerous cracks across the glacier.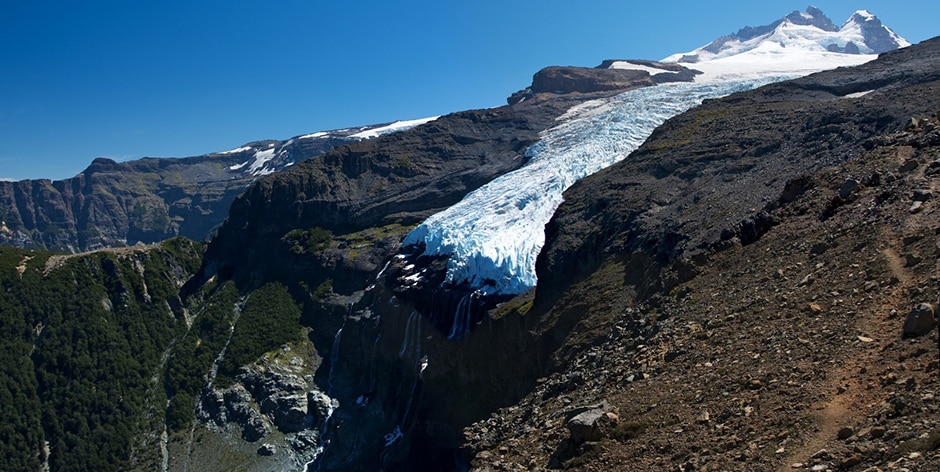 We encourage you to do these trekking activities to discover the ability to live and share unforgettable experiences while seeing breathtaking sceneries. Places like the Frey and their surroundings, the hut to hut Circuit, climbing, skiing or transit the Tronador glacier are definitely excellent choices to take advantage of the Bariloche city. Diversity will surprise you step by step, and you will certainly appreciate the best views of Argentine Patagonia.
Ready for your next Patagonian adventure? Check out all our hiking trips in Bariloche and the best treks around Mount Tronador.
Want to know more about
Hiking in Argentina?