Trail Running: What's that?

A bunch of people that are so excited about the mountains that just go there and run? Well, kind of, but there's much more about it. Learn more about this discipline that was recognized as official last year by the International Association of Athletics Federations (IAAF), and meet the guides that offer trail running programs in Explore-Share.
A very basic but necessary first question. According to the International Trail Running Association (ITRA), Trail-running is a pedestrian race open to all, in a natural environment (mountain, desert, forest, plain…) with minimal possible paved or asphalt road (which should not exceed 20% of the total course). The terrain can vary (dirt road, forest trail, single track…) and the route must be properly marked.
The race is ideally – but not necessarily – in self-sufficiency or semi self-sufficiency (meaning that the runner has to be autonomous between aid stations, regarding clothing, communications, food and drink) and is held in the respect for sporting ethics, loyalty, solidarity and the environment.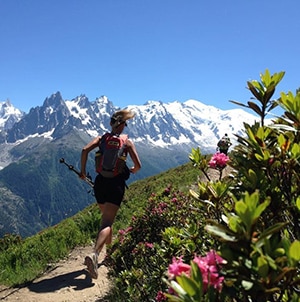 That's the theoretical definition. In simpler words, Trail running can be described as a sport that consists of long distance running and hiking over trails. But talking about its essence, trail is not only about running, but also about experiencing mountain environments. As many mountaineers, trail runners usually search for personal symbiosis with nature and connection with the world surrounding them, which is not always possible when you go running in the city. Many runners practice it as a mental therapy, which enables them to process things that are usually in their minds all day, while enjoying awesome and peaceful landscapes.
Maxime, passionate about trail running and owner of Monsport Magazine, says that "trail running is much more than a sport, it's an art of living". For him, "running in the nature procures a huge pleasure that the landscapes multiply: you can get addicted really quickly".Caroline, UIMLA Mountain Leader and also trail fan, tells the reasons why she likes it, and why she considers the discipline is growing more and more: "Trail allows me to go to the mountains, where I feel free, while pushing my limits. And it's a very good way to meet people, who share the same objectives, in a great atmosphere!"
Kílian Jornet, who is widely regarded as the best trail runner in the world, explains it very clearly: "I like competing, as it is a way to meet friends and to self-improve. But, above all, I conceive the sport as a way to discover landscapes both inside and outside you."

So, if you are a newbie or an experienced runner, what about taking your passion to beautiful environments? It's easy to start with, you just need a pair of running shoes, water, and you can already head to the mountains!
Trail running with a guide
There are a number of certified mountain guides and leaders who, besides the traditional mountaineering activities, also offer trail running programs. Some of them for people who just want to have a taste or get introduced into the discipline, and some other for more experienced trail runners who want to improve their skills or get prepared for races.
The benefit of going with a guide is that they not only help you develop your potential, but they know the terrain and can take you to the best places for trail running in a safe way. It makes a huge difference to go over the different aspects you must pay attention to with a specialist: Mental preparation for long distance running, physical preparation, training, planning, race technics, race management, nutrition, safety technics and necessary gear.
And with a guide you can pay special attention and improve your technical progression. Not everything is as intuitive as it may look when running in the mountains: you must know how to run down, how to use poles while going up, and where to set the foot, in order to avoid injuries. And, most important, how to increase the distance progressively, especially when dealing with high altitude.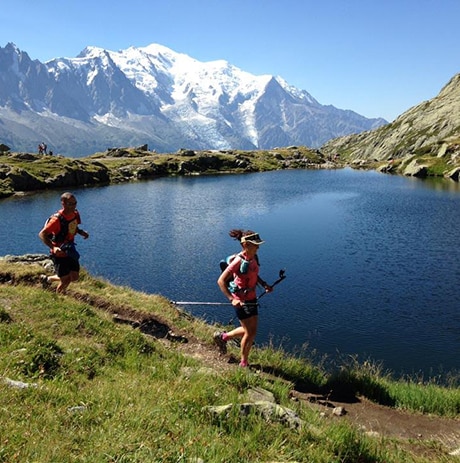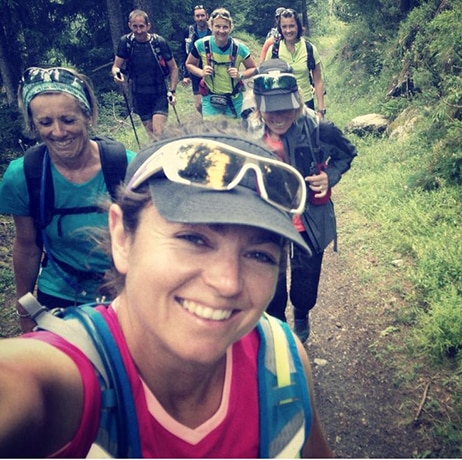 Trail Running is a rather new discipline, which is rapidly growing around the globe. So far, in Explore-Share we have guides offering trail running programs in France, Italy and Switzerland.
Chamonix is one of the main spots were trail is practiced, and you can go to train for some of the most popular races that take place there. There are several-day trail courses where you train on the path of these races. Or you can also choose to do other classics like the Chamonix to Zermatt trail, the GR-20 in Corsica, or various trail options in the Pyrenees, among others.
For the upcoming months, there are a number of programs with confirmed departures and dates. Check out the programs of Caroline, UIMLA Mountain Leader from France, and start running in the mountains:
● 3 days trail running in Saint Gervais – From March 18th to 20th
● Winter trail & cross country skiing in les Saisies – From March 24th to 27th
● Trail running in the Calanques, Marseille – From April 15th to 17th
● Trail running in Auvergne, Puy de Dôme – From April 22nd to 24th
● Basics of trail running in Provence – From April 29th to May 1st
● Trail running training in Annecy – From April 29th to May 1st
● Learn trail running basics in the Beaufortain – From May 20th to May 22nd
● Mont Blanc 80 km trail – From May 27th to May 29th
● Trail running around Mont Blanc – From May 27th to May 29th
● OCC® trail running race training – From June 11th to June 12th
● 4-day trail running training in Saint Gervais – From June 16th to June 19th
● UTMB® trail running race training 4d – From June 16th to June 19th
● UTMB® trail running race training 4d – From June 23th to June 26th
● CCC® trail race training – From June 24th to June 26th
● OCC® trail running race training – From July 2nd to July 3rd
● TDS® trail running race training – From July 7th to July 10th
● Learn trail running basics in the Beaufortain – From July 15th to July 17th
● CCC® trail race training – From July 15th to July 17th
● UTMB® trail running race training 4d – From July 21st to July 24th
● CCC® trail race training – From July 29th to July 31st
● UTMB® race trail training 7 days – From August 1st to August 7th
● Learn trail running basics in the Beaufortain – From August 12th to August 14th
● 3 days trail running in Saint Gervais – From October 7th to October 9th
See more Trail Running pictures for you to discover this activity: